Mini Fairytail Golden Retrievers Testimonials
Here's what a few of our customers have had to say about us.
Have a testimonial of your own to share?
Send a Testimonial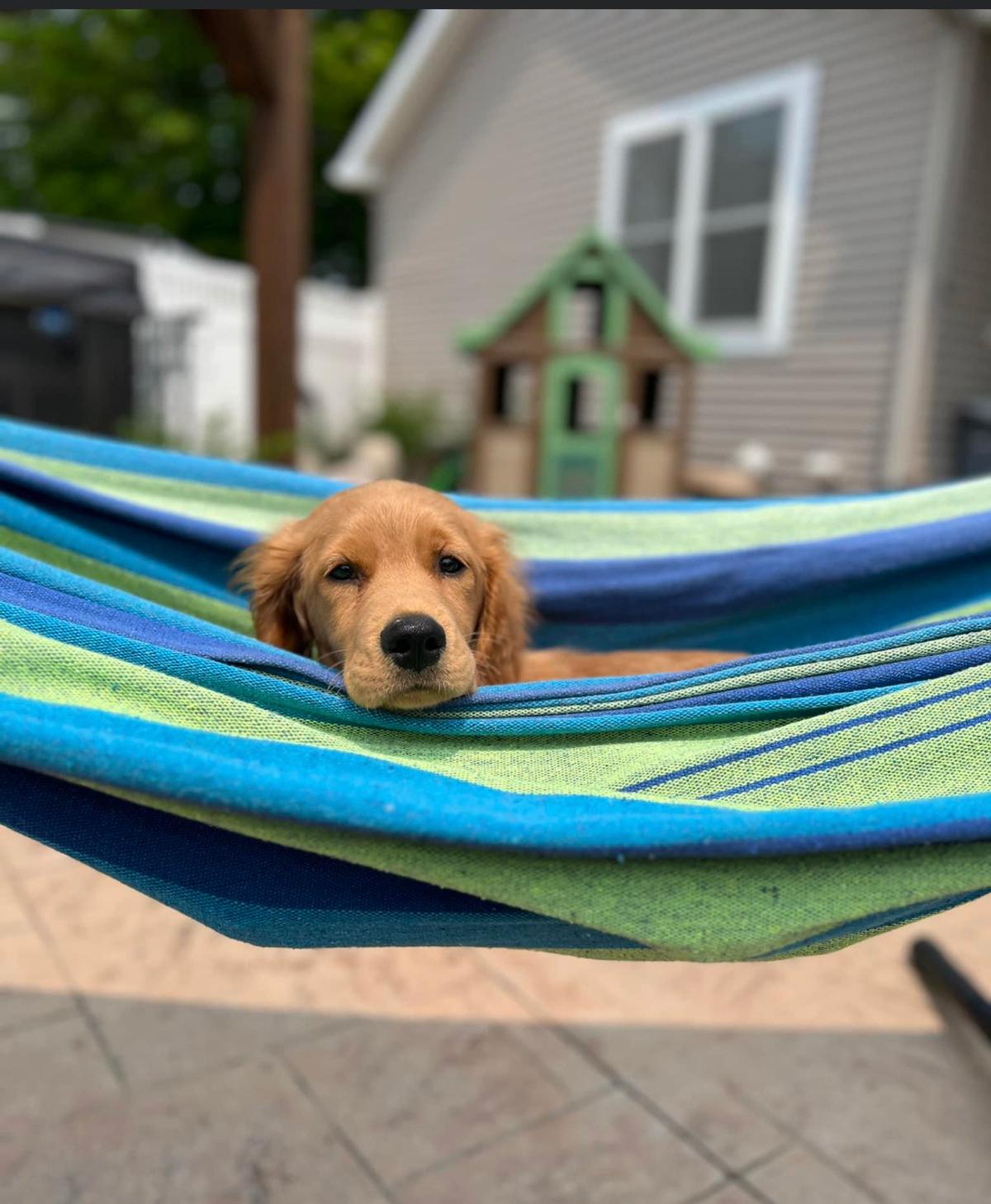 Kristi Whakey
Spring 2023 - DeWitt MI
We adopted Scooby Doo in May of this year. Wonderful company and beautiful dogs. We are thrilled with our new family member…especially our grandson they have so much fun together. Scooby kept his name given by him by Mini Fairytail bteeders. He is a sweet dog, and really smart almost completely potty trained in a week. Highly recommended!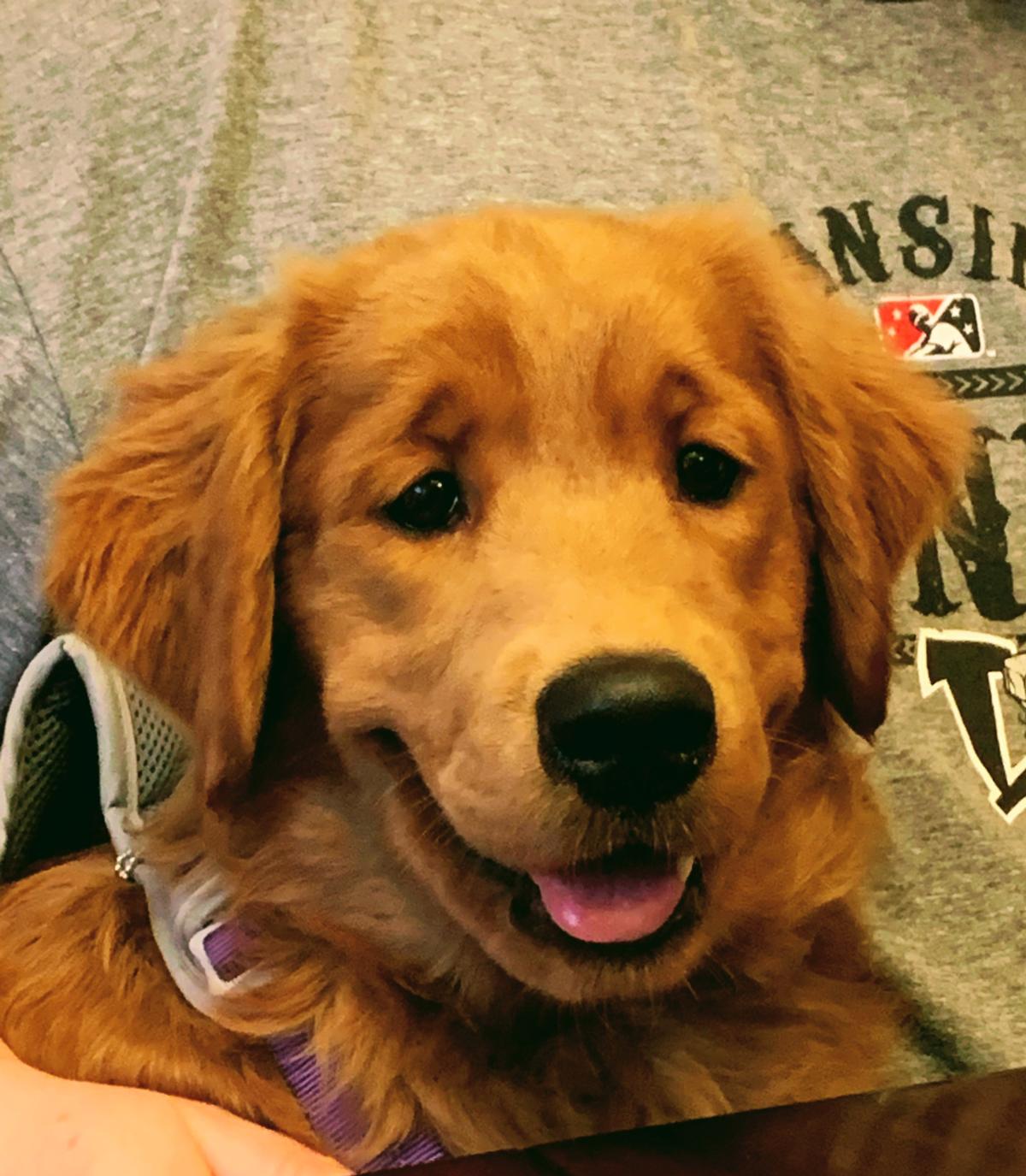 the Zapors
Spring 2023 - South Lyon, MI
We were recommended to Mini Fairytail Golden Retrievers by a friend that had purchased 2 dogs from them in the past. We knew both of their dogs, and both are wonderful! So, when we were thinking of adding another pup to our family, it was an easy choice. Both Dans made the process very easy. They have been so approachable and informative, always quick to respond. We picked out a sweet, young boy named Mateo. He is so loving, friendly, and curious. He fits right in with us and we are so happy that he is a part of our family. Mini Fairytail is such a great breeder to work with and we 100% recommend them to anyone.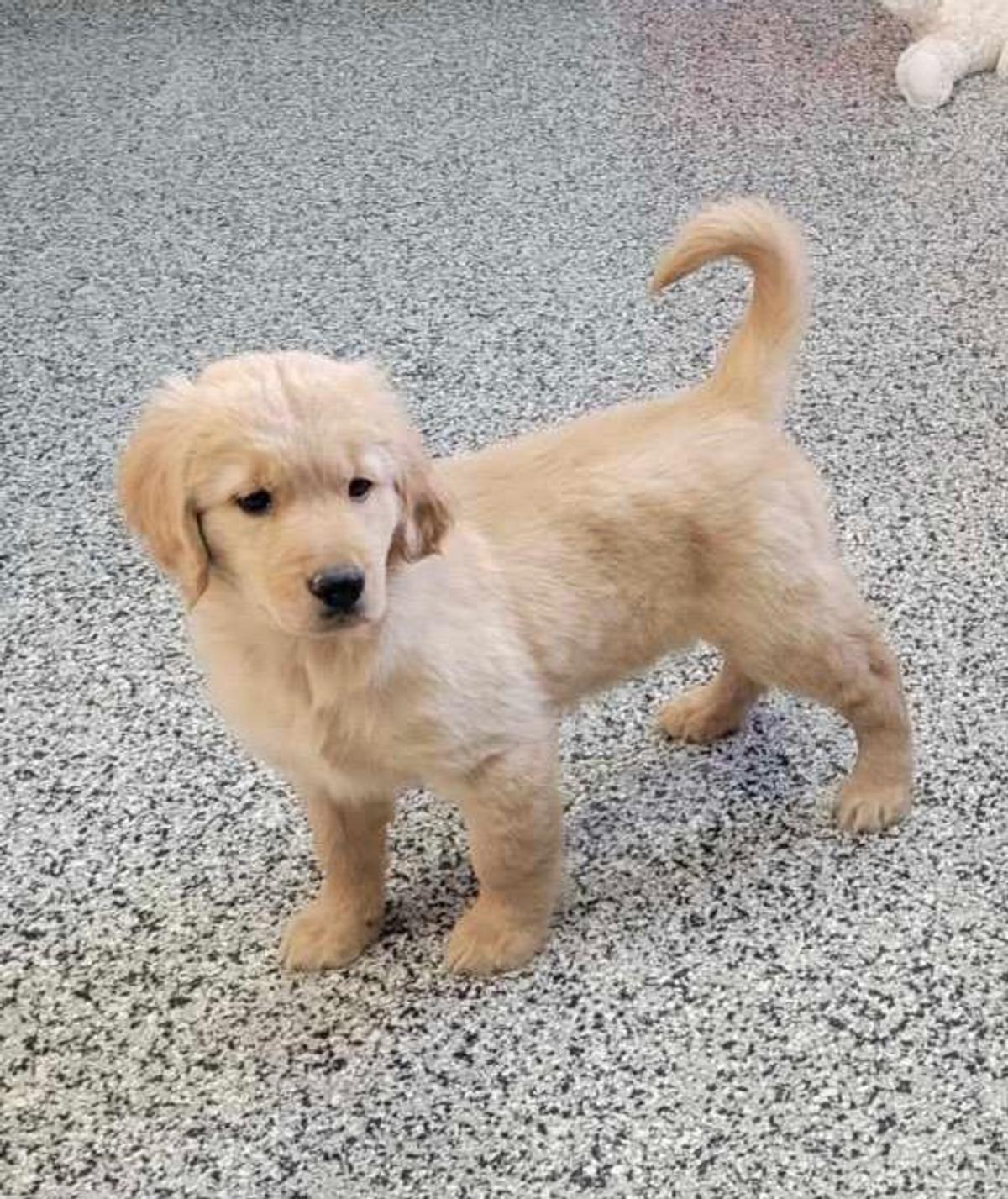 Roy and Jo Johnson
March 22, 2023 - Marietta
We just lost our beloved Golden Retriever of fifteen years to health issues. We started searching for a new family member, and came across the site! We were fascinated. So we checked things out, made an inquiry and we are now the happy parents of a new family member named Molly! She is the joy of our lives right now. Thank you all so very much for making this so very easy.
Carolann Myhre
Spring 2022 - Loveland
Asher (known as Bobby) is almost 1 year old and weighs approximately 36 pounds He is a nice size and has fit into our family so nicely. He still has puppy tendencies but is showing signs of maturity. Working out Mini fairy tail was so pleasant and having them deliver him to us in June after a health issue prevented me from traveling.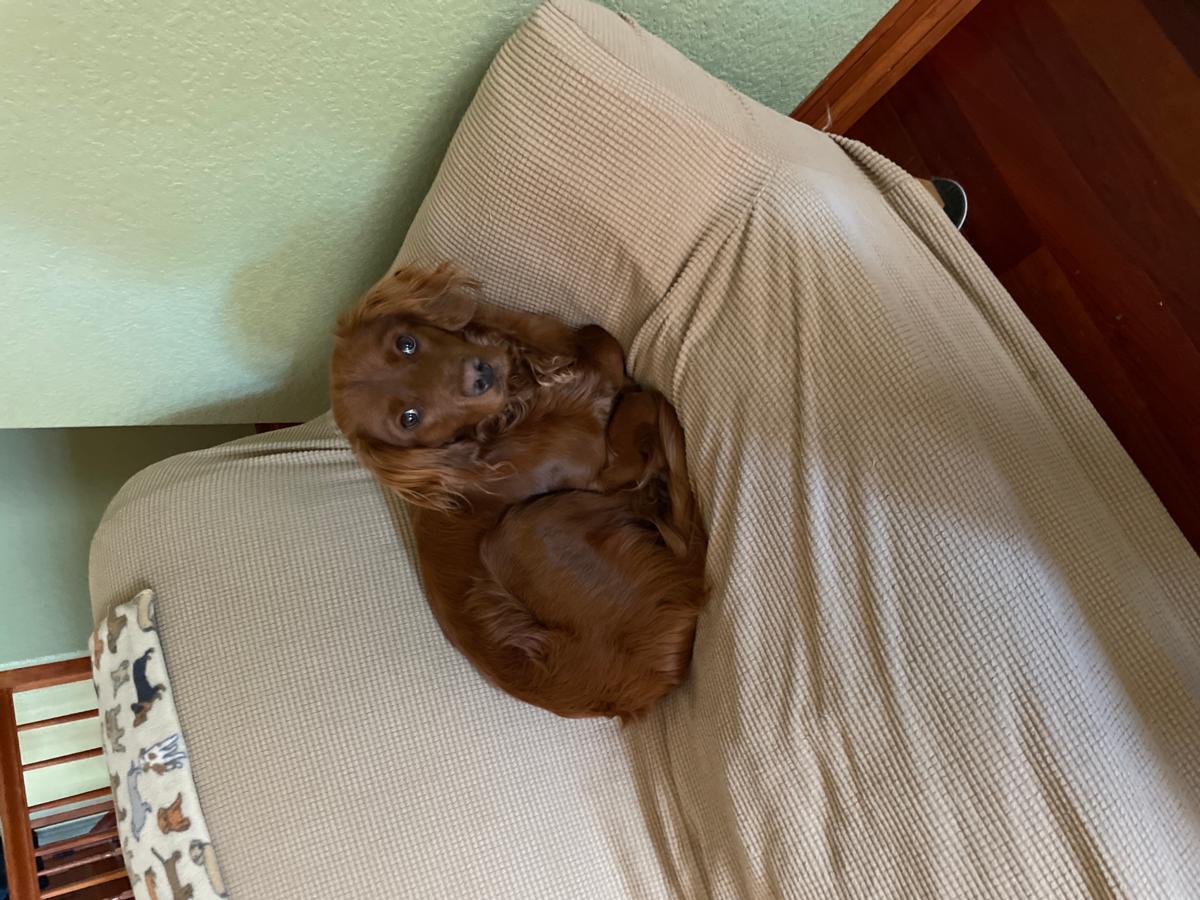 Carolann Myhre
Spring 2022 - Loveland
Asher (known as Bobby) is almost 1 year old and weighs approximately 36 pounds He is a nice size and has fit into our family so nicely. He still has puppy tendencies but is showing signs of maturity. Working out Mini fairy tail was so pleasant and having them deliver him to us in June after a health issue prevented me from traveling.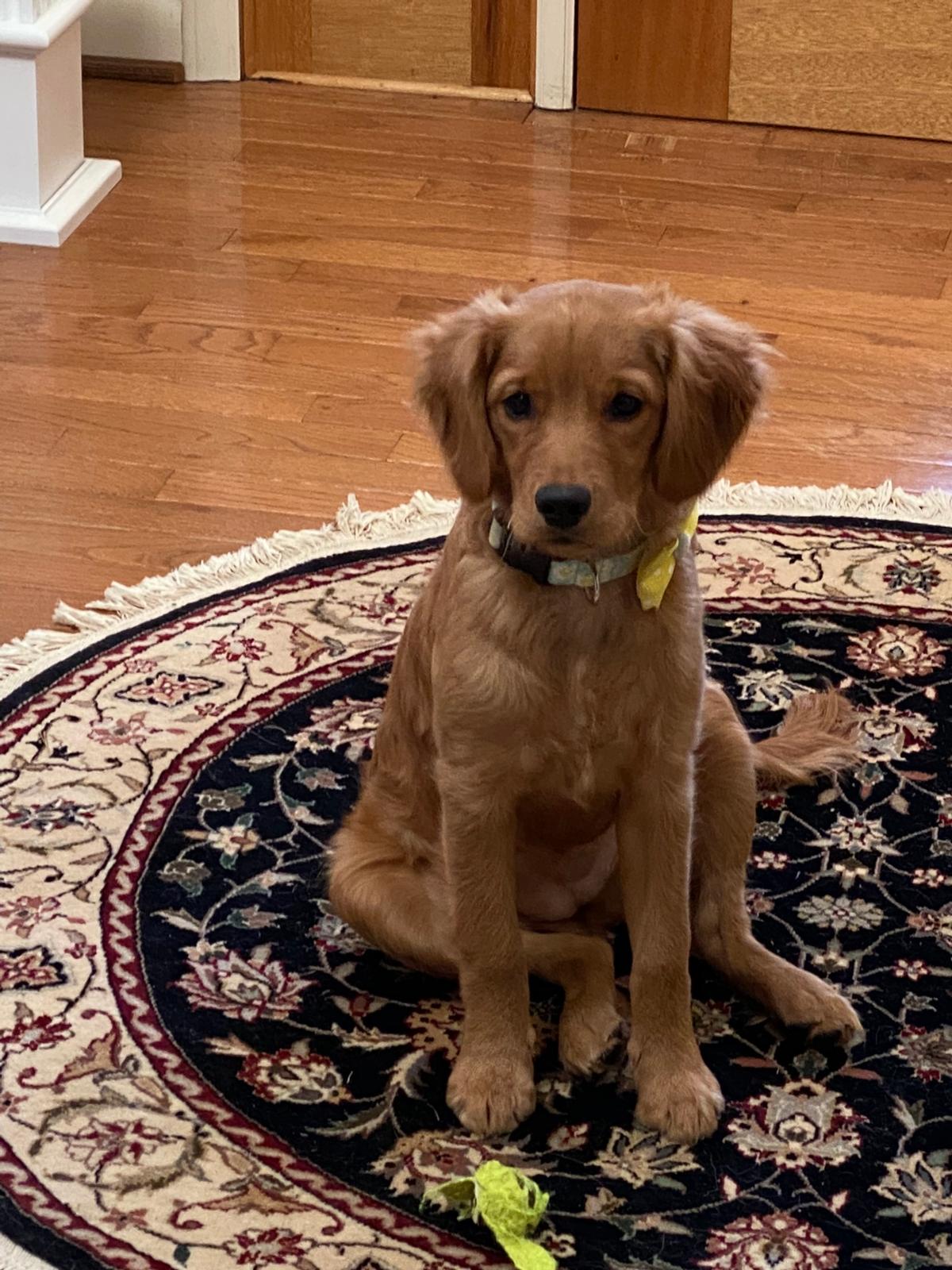 Sue Houston
Fall 2022 - Campobello SC
We got Macy (formerly Girly) right after Thanksgiving. She is now 5 months old and weighs 21.5 pounds. I cannot say enough about what a great experience this has been! I always wanted a golden retriever but the size was just too big for us. When I learned about miniature golden retrievers I was thrilled! I searched but they seemed hard to find. When I found Mini FairyTails online I read their testimonials and was sold. We now have a beautiful healthy puppy that is so affectionate and loving! Since we live in SC we opted for delivery and it was perfect! I highly recommend these breeders!!!!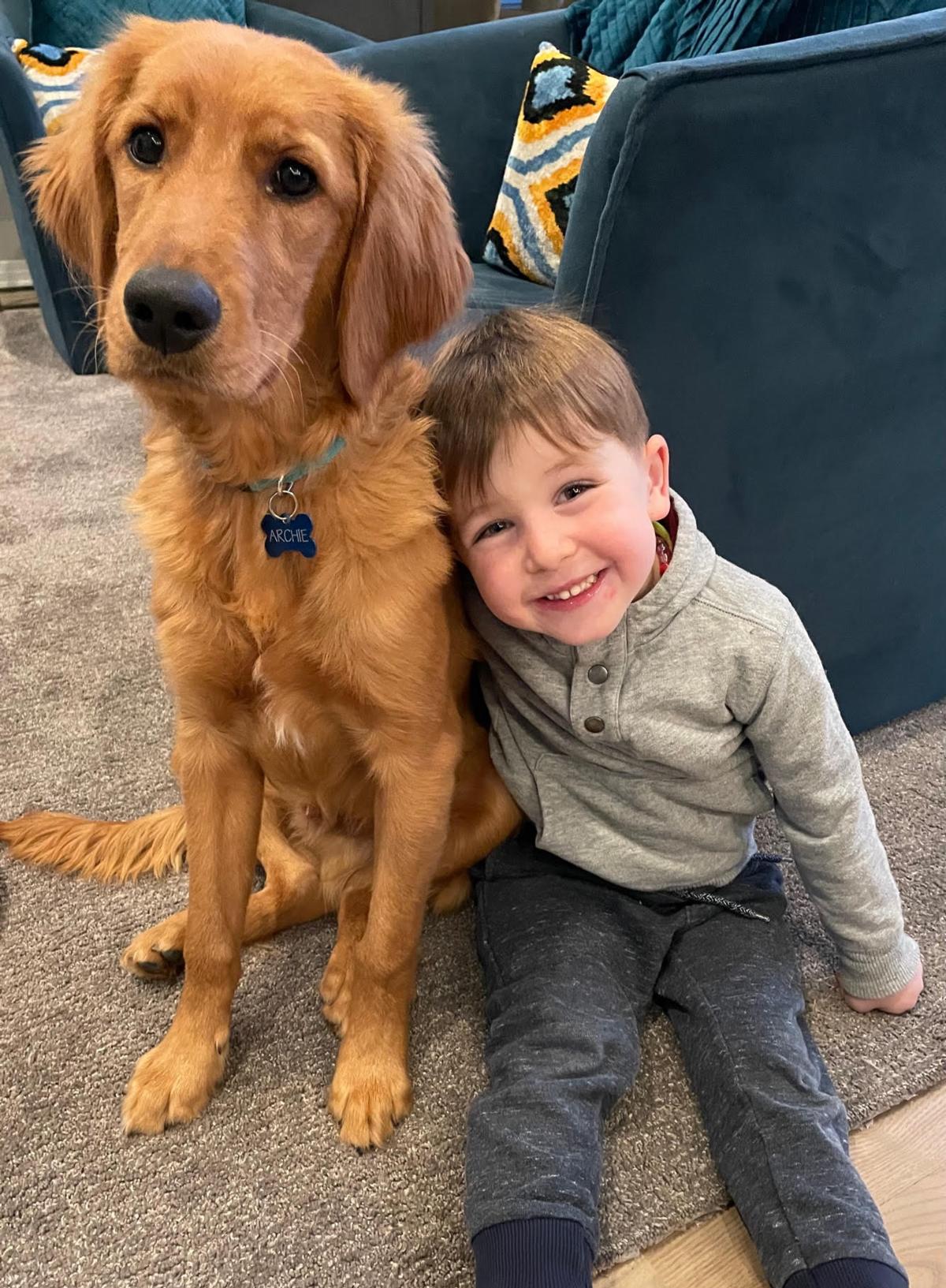 Julia & Jason Gold
August 2022 - Denver, CO
Archie has such a great temperament! He's great with our young kids, aged 12 to 4 and has been very easy to train. Plus we absolutely love his great looks and overall stature. People stop us all the time to admire Archie and say hello. Jay was easy to work with and very knowledgeable about the different puppies.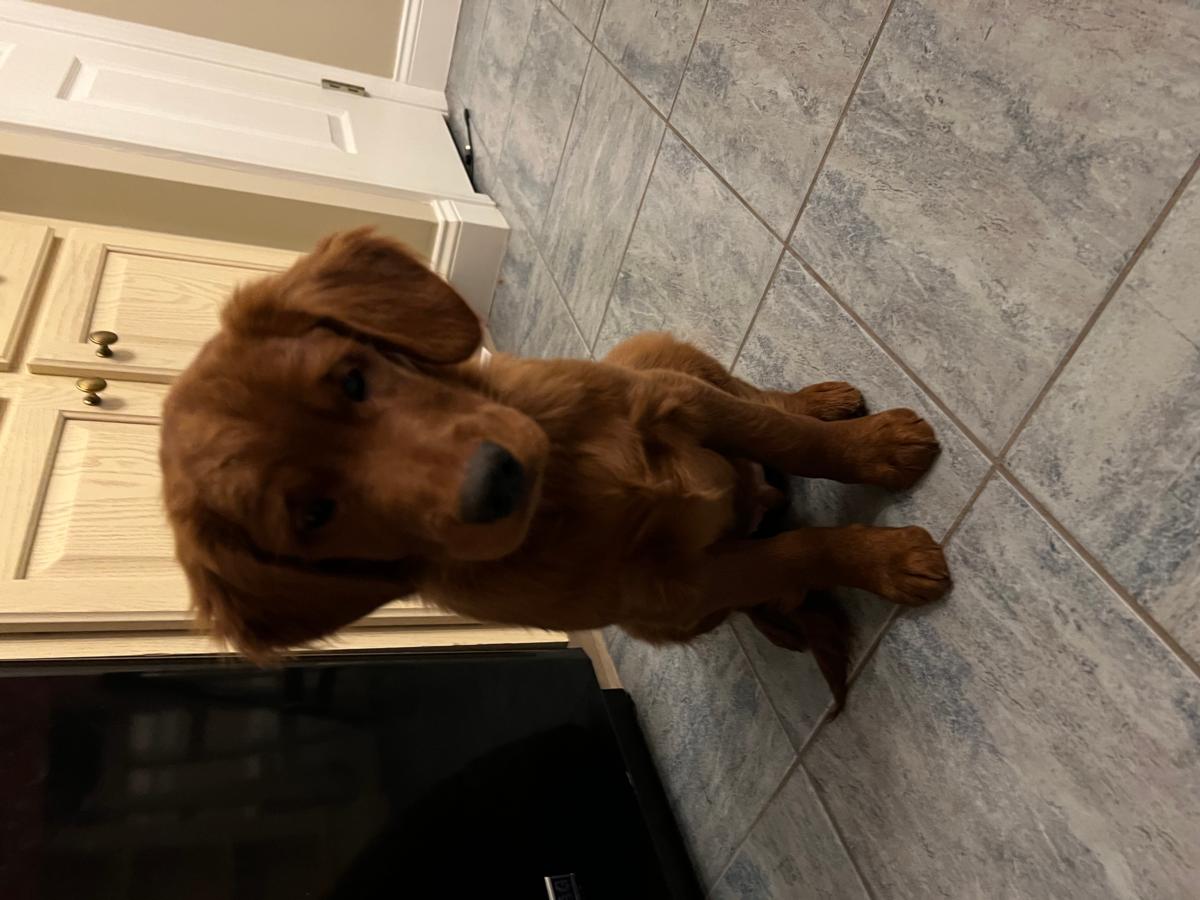 Jessica Lotito
Winter 2022 - PA
Mini Fairytails was such a great experience. We had just lost our 9 year old lab unexpectedly in November and we weren't planning on getting a new dog for a while. Since our dog passed I kept getting feeds of golden retrievers on my Instagram account, I was hooked on how adorable and loving they looked to be. I then began my search on a smaller golden and came upon Mini Fairtales. I called and Dan immediately picked up my call, answered all the questions we had and what our intentions were. Dan was so kind and caring and made a point to fill our home with a new puppy. Since we don't live nearby he drove Badger (Wildfire and Leah are his parents) to our house for a Christmas delivery puppy. It wasn't easy for Dan being had very bad weather to contend with but he was in communication every step of the way and did everything he could to make it work out. Very professional and all the paperwork he came with is nicely organized for the vet to take over the file. Badger now Copper is very sweet, calm and loving and has been a great addition to our home! Thank you Mini fairtales for our new puppy!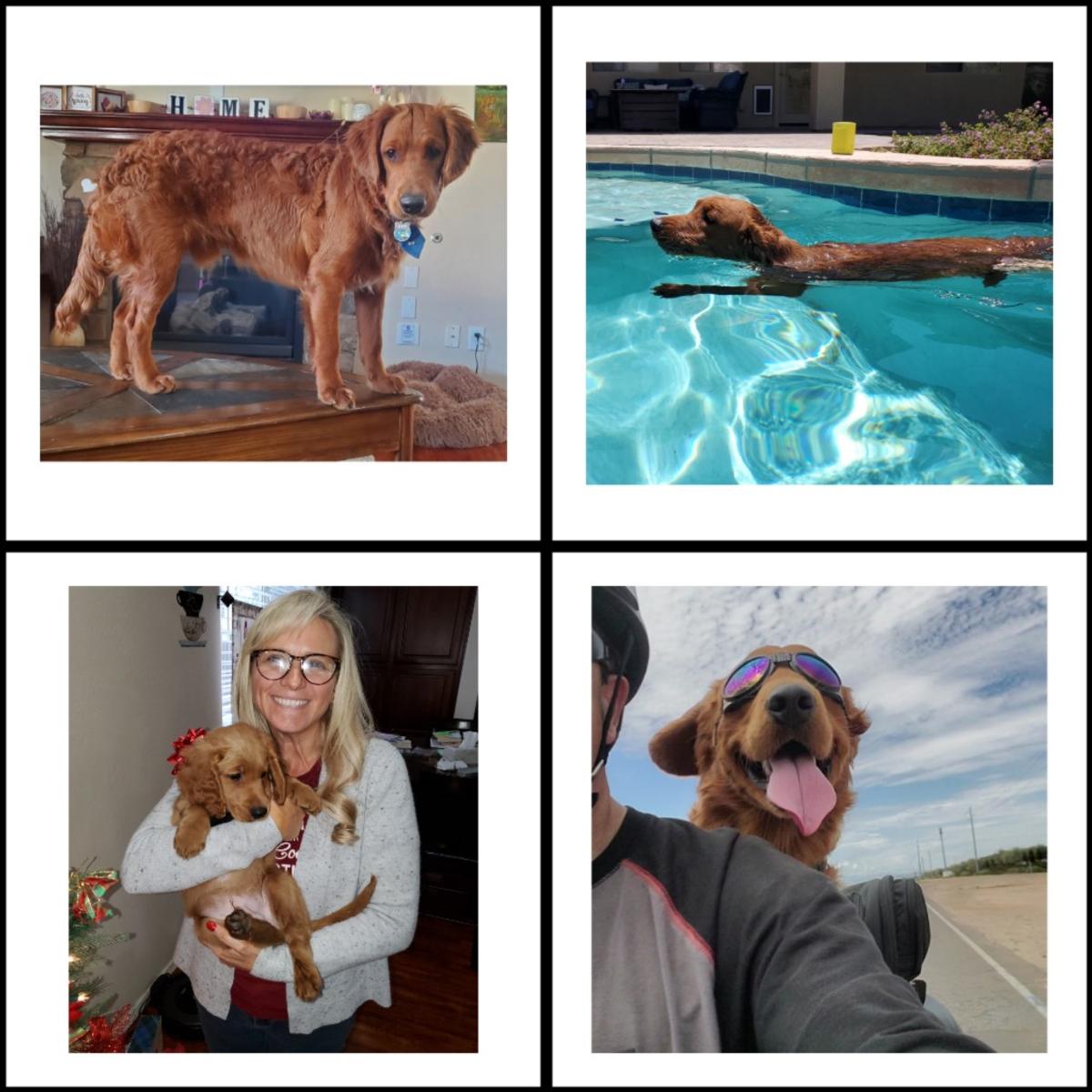 Rufus T Firefly
Winter/2021 - Waddell
We found out about Mini Fairy tail Golden Retrievers online. It was a risk for us but after speaking directly to them I realized that it was legitimate. It was a pretty simple process. We paid for the flight and picked him up at the airport. Rufus is a very loving dog, he loves being with people and plays constantly with his big brother (our Labrador) Fully grown he is 51 lbs and sheds little to nothing. My wife isn't allergic to him. He likes swimming but not as much as riding with me on my motorcycle, he really loves that. I highly recommend getting a puppy from Mini Fairy tail.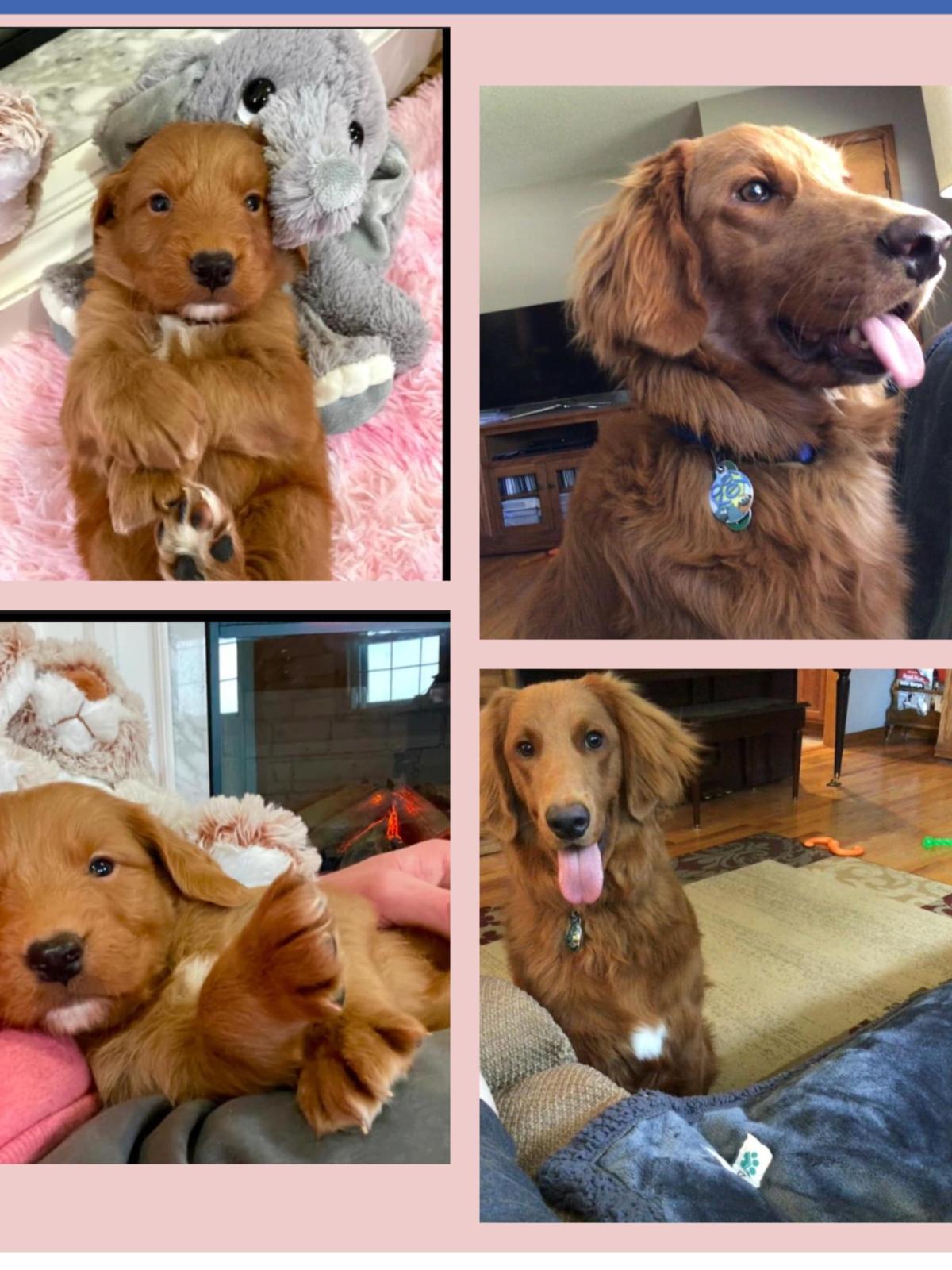 Dave and Marsha
Winter, 2022 - West Central Illinois
We heard about miniature Golden Retriever puppies last Fall, and it seemed like that might be the answer for us. We have had two previous full size Goldens, and really loved the temperament but I felt that the size might be a bit much as we are getting older. We made the decision to inquire about possibly adopting one from Mini Fairytail Golden Retrievers and in January, our new puppy arrived at our door. He was born November 1, and so he just turned nine months old. James says he should be pretty much fully grown now. He doesn't shed nearly as bad as our other Goldens, which is a plus. He is on the larger end size wise, weighing 46 lbs the last time we had him weighed. He is strong, but manageable for us. He is shorter and not as long as a regular Golden. What I want to say the most in this review is what a great dog we have! He is very smart, a quick learner, incredibly gentle and sweet with kids and always eager to make a new friend. He wants to be with us constantly, is great on his walks, loves to play, and adapts to our schedule really well. We put him in a wire kennel at night and we don't hear a peep out of him until we are up and ready for him in the morning. He is very beautiful, deep red and everyone tells us how pretty he is. But, most of all, his temperament is wonderful. We highly recommend James and his family if you are looking for a new dog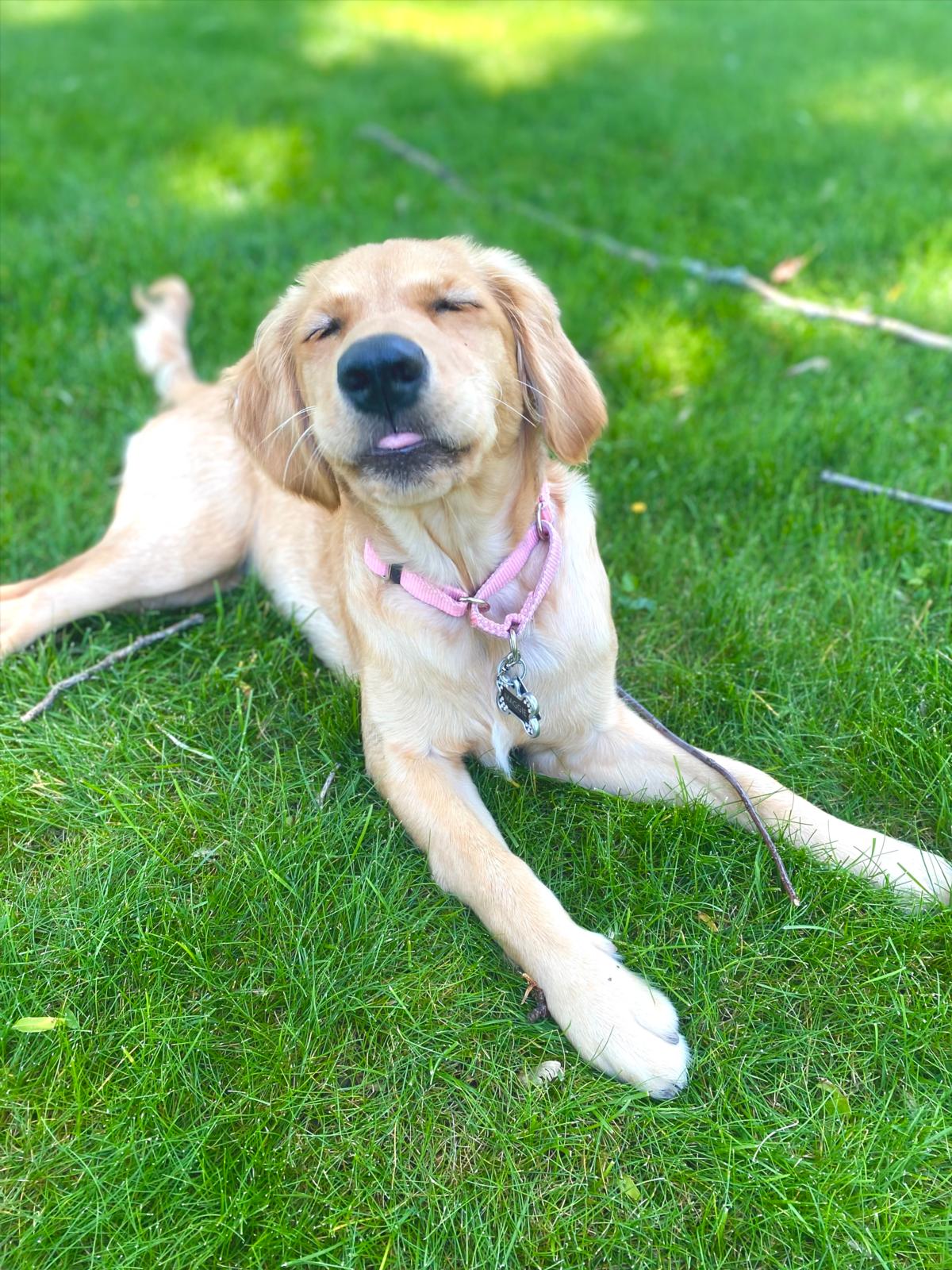 Barbara Gruenwald
Spring 2022 - Milwaukee, Wisconsin
Magnolia (Maggie) is from Kasey and Fireball's February 2022 litter. She's 5 1/2 month old in this picture. Maggie is adorable! We haven't made it through a walk without getting stopped by people to comment on how beautiful and well behaved she is. She's actually very sassy, funny, and easily trained to do a lot of tricks! Jay was great to work with! He sent us a ton of pictures, videos, and Facetimed is so that we could pick out the puppy that was perfect for our family.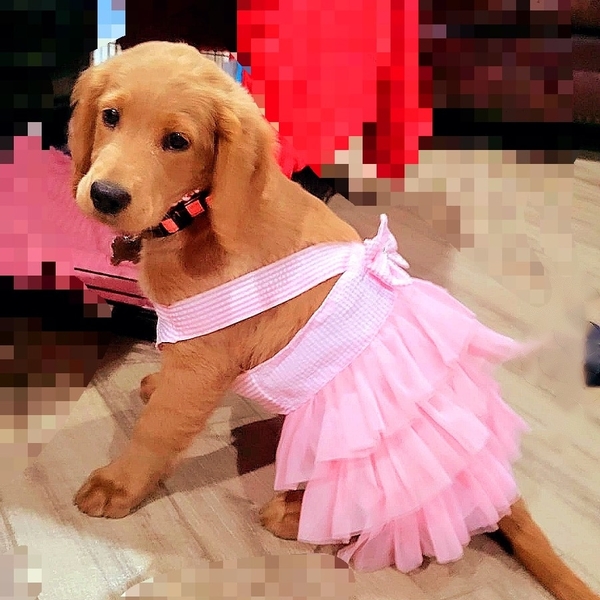 Rajarshi Chatterjee
Summer-2022 California
Hope you are doing good!
Just wanted to let you know that Pixi is amazing!
We are having a great time!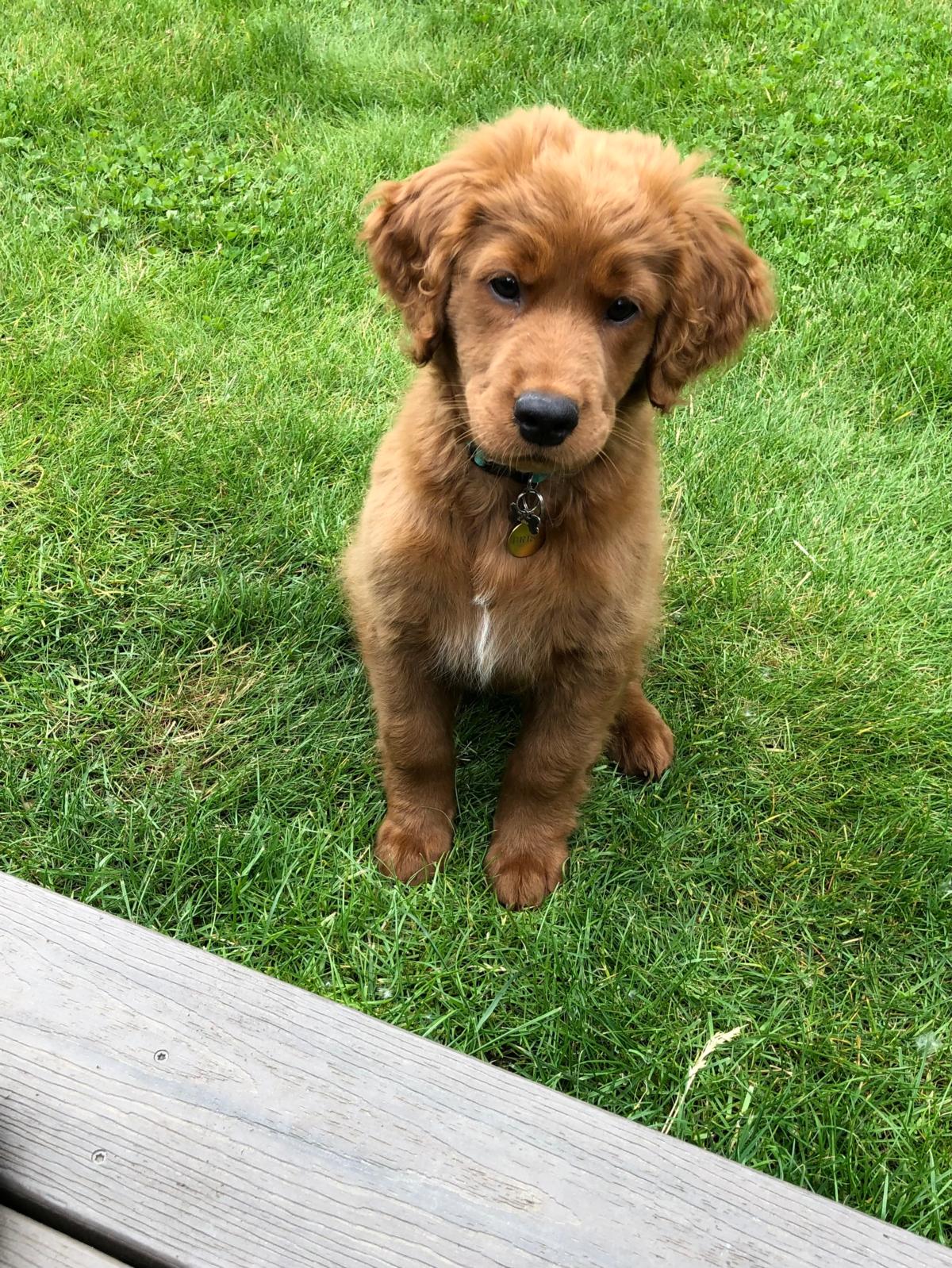 David Eisenhower/Janet Lehwalder
Spring, 2022 - Bellingham, WA
This is Brisa, a happy, lively pup who loves every person and every dog she meets. Makes our lives happy and lively, too! She flew to Seattle with no problems. Our experience with choosing and receiving her was easy. Mini Fairy Tails was always responsive and easy to work with. We think their photography was exceptional, too! Thanks, James.
Chrissy Cvet
Spring 2022 - Canfield, Ohio
We brought home Zach, now Quincy, May 5, 2022. He has been an amazing addition to our family. We lost our 13.5 year old, full golden in September 2021. We knew we would want to welcome a new puppy in time. Our full golden was 80lbs and a lot to handle towards the end, but he was the BEST dog. We thought we may want a smaller pup this time, but were finding it hard to part from a full golden. My friend found Mini Fairytale and once I poured through the website, I knew we had found our perfect fit...Golden Retriever looks and smarts, in a smaller package. Quincy has taken to training so quickly and learned to sit within hours of coming home. He has been on numerous adventures already - baseball games, car rides, stores, hikes, local dog beach. While out and about he is always so calm and willing to listen. He is the star of puppy school, too! We couldn't be happier with our decision! Thank you, Jay, for a wonderful pup! Also, for the pics and quick replies while waiting to take our baby home! Top notch from day one!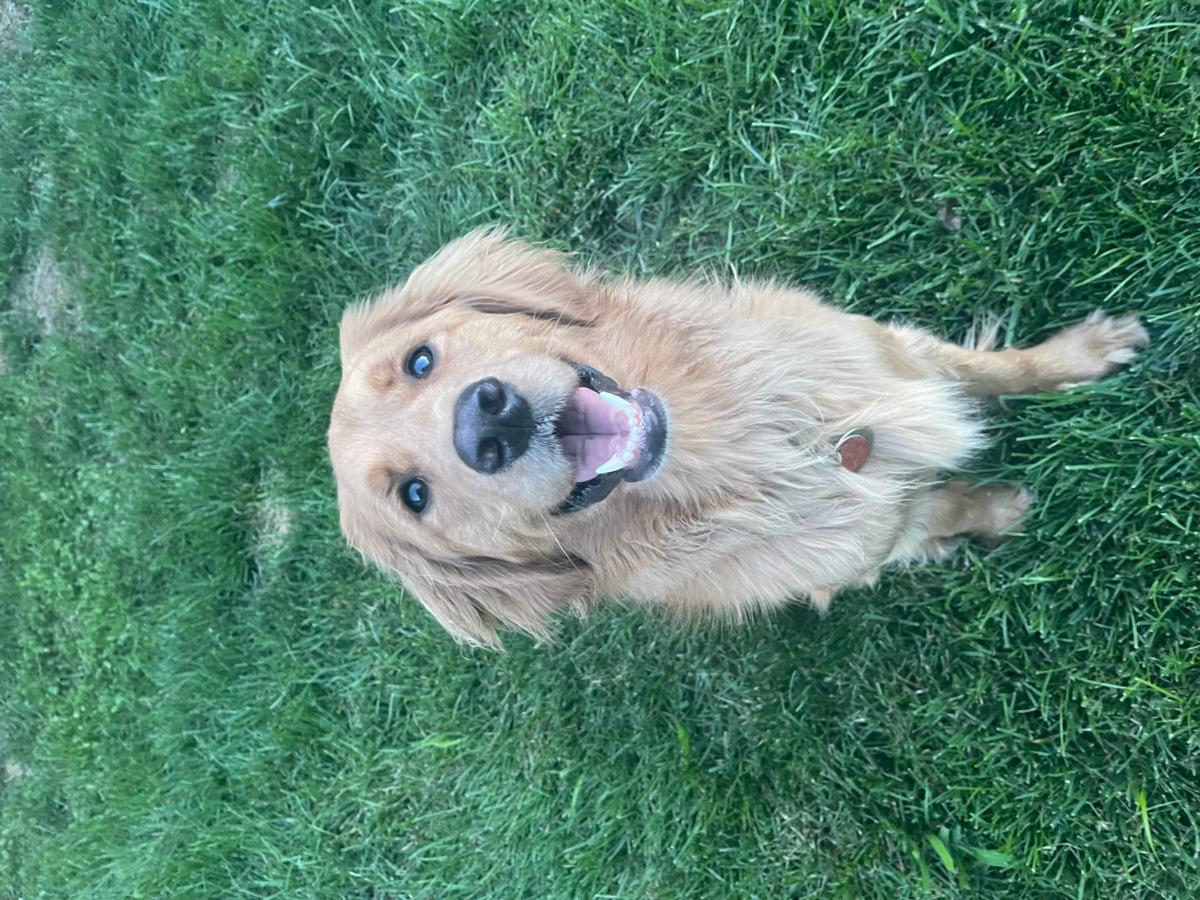 Kristin Guillaume
winter 2021 - Louisville KY
We love our sweet Flynn. He is feisty and sweet and has all of the wonderful characteristics of a full golden. We also have a full golden who is 6 months older than Flynn and they are best friends. The minis always look a little like puppies. I have referred several people who are all happy with their dogs.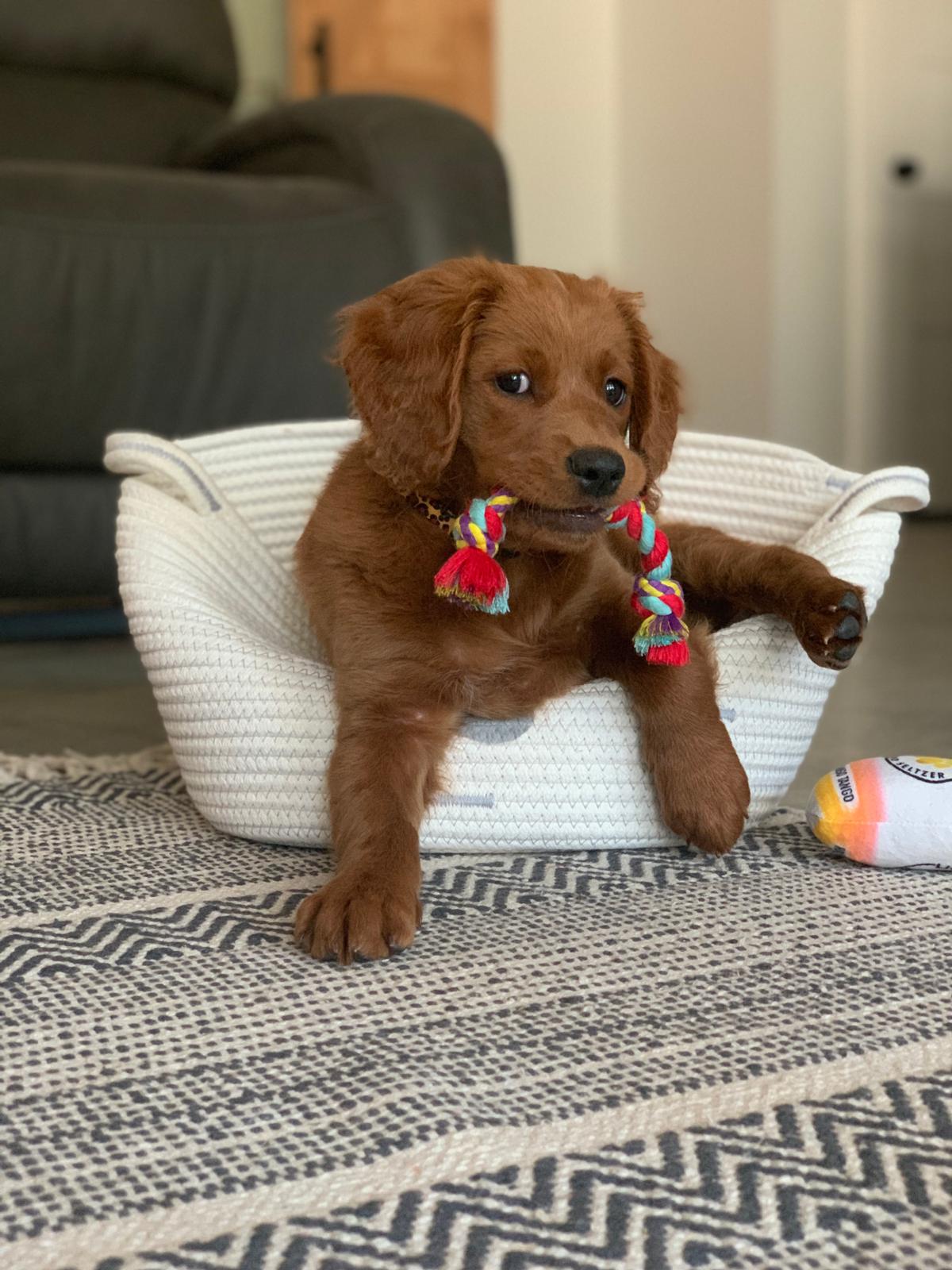 Catherine & Bradley
May 2022 - Covington, Louisiana
We were pleased with how smooth getting Ginger was (her new name is Sadie). We contacted them and had her within one week delivered straight to our front door. We were instantly obsessed with Sadie and how perfect she is! Highly recommend.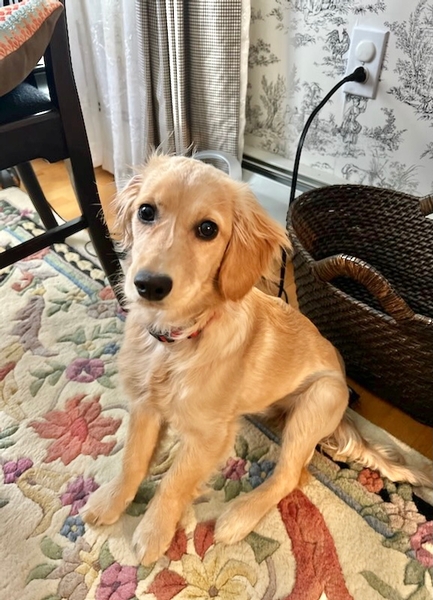 Nicole Duv'e
Potsdam NY April 2022
Tinker Bell is doing very well and her new name is Maizey.
She brings a smile to everyone's face!She is exactly what we we're looking for and what we needed.My husband is smitten with her and she cries when he leaves the house.They are very attached to each other.I'm so glad she waited for us to find her and make the trip to get her.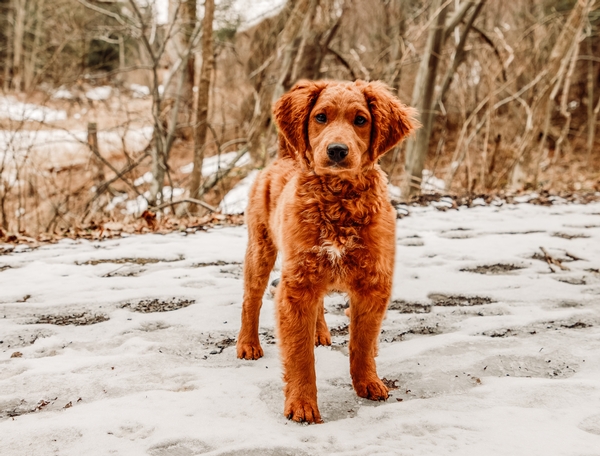 Rebecca Salcedo
We bought Strudel (aka Smooches, pet id 53, parents Fireball and Adella) in February 2022. I had been trying to convince my husband to get another dog for years to no avail. I happened upon Strudel by accident while using the Lancaster puppies app; had never heard of mini-golden's before and was curious. I saw Strudel and the rest is history. I immediately fell in love and my husband couldn't resist how adorable she was. So I contacted Jay that weekend and had her that Tuesday! So easy to work with. Even better than her looks though, is her personality! She is the sassiest, smartest, cutest dog ever! She is so loving and will sit on our feet whenever just to be close to us. We have conversations with her all the time as she practically communicates like a human!n We love, love, LOVE her!! My husband is head over heels for her and they are best friends. She keeps our other dog active and they play all the time. She is less than six months old currently, but is fully house trained, and knows to sit, stay, lay down, and come. She is super easy to train and highly motivated. I can't praise her enough! If I could I would have dogs like her for the rest of my life! We love her!
Very respectfully,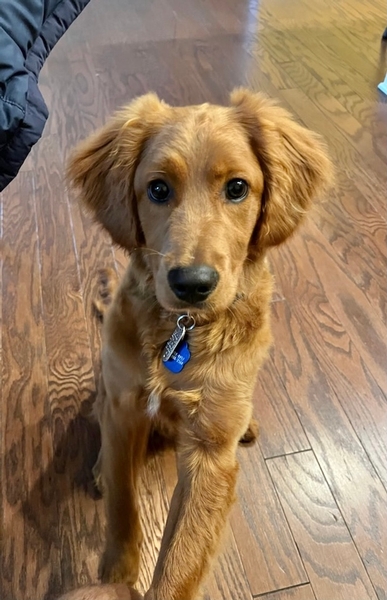 Mike Groenewald
Febuary 2022- Durham NC
I thought the process from initial inquiry and paying a deposit to getting the pup delivered in just a few days went very smooth.It was professional and things things went just as I was promised . The fact that I was given the option of getting him delivered was very helpful an we might even get another one in the future so Jax can have a friend!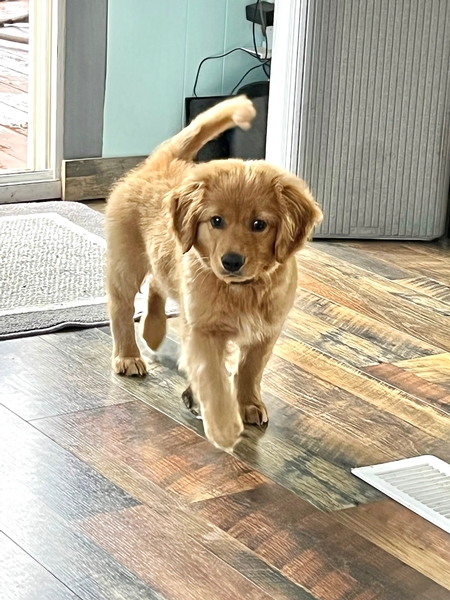 Brandi Hoff
April 2022 - Huntsville, Ohio
This is Nuke( Given name was Toto)
He is such a fun, loving clown and he has jumped in the lake already!
His personality is just amazing ! He is little but he doesn't know it!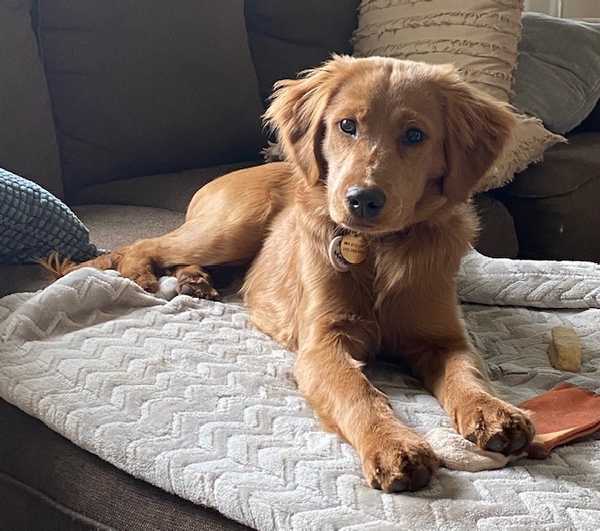 Rhonda Pietryka
Adoption - December 2021
Hello,
We got one of your puppies for our kids for Christmas .
I can not imagine our life's without our sweet Ginger (was Missy)! She became an instant part of the family. Everyone that meets her falls in love instantly , even those that don't normally like dogs! She was pretty easy with potty training and has picked up basic commands with ease . She loves being outside going on walks and snuggling.She has a great temperament and attitude.Her fur is so soft, she is like big pillow.She is great with kids and other dogs. She's the most popular dog at daycare!
Thank you for giving us the missing part of our family!
Rhonda Pietryka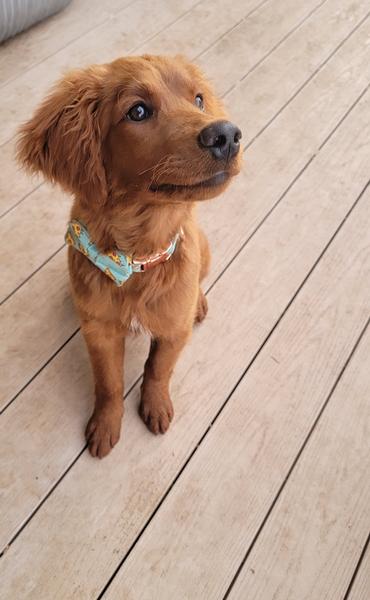 Lisa Zemola
Perfect Pet (Febuary 2022)
Hi!!
I just wanted to update you on Cupcake(Maia)and let you know she is literally the most perfect pet! She is so incredibly sweet, super smart , so loving,so playful, has the best goofy personality , and is the most chill and well behaved puppy I have ever had or meet!
Thank you again so much!!!
Lisa and Maia
Linus Bruno
December 2021- From the Bruno Family - Charleston South Carolina
Charmer has lived up to his name….known as Baker now! This has to be one of the best dogs we have ever owned! From the time we started the process online dealing with James until we picked him up, the process could not have been smoother. I was met at the airport and immediately fell in love with Baker. His dispostion and great nature speaks volumes about how he was breed and the love he received at the farm.
Knowing that we were getting a dog from a reputable breeder and loving family meant the most to us. The care and health of the puppy was a priority, and being delivered with all the records and vaccinations, as well as being microchipped made things so much easier.
We, as a family, could not have asked for a better experience and such a wonderful dog. Baker is our pride and joy and will be forever loved thanks to the Wonderful family from Mini Fairytail Golden Retrievers.
THANKS FOR LETTING HIM JOIN OUR FAMILY
Cheers,
Linus Bruno and family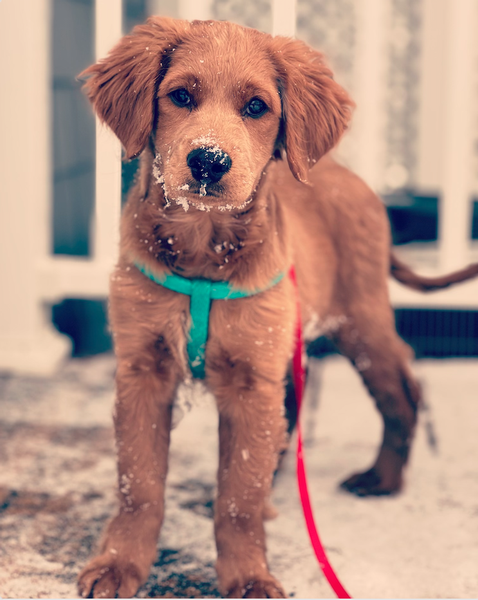 Casey & Amarachi Pettit
Febuary 2022
We have an older dog who seemed lonely and in need of a companion. We got Archie from Fairytales on a bit of a whim after finding our way to their website. We were nervous about what we had signed up for adding a new puppy to our very busy work demands. Archie was personally delivered to us in Boston, by a very kind man who had taken great care of him on the trip (not via puppy transport services like many other breeders). Archie is the absolute sweetest and most calm puppy we have ever had. He is curious, kind, eager to please, a very fast learner, and he is great with kids and other dogs. He is also super happy - he hardly ever barks (he never growls). I trust him to meet even small excited children on the street and he's been great with our older (less nice) minpin. At 4 months old, he is potty and crate trained and is learning quickly how to heal on our walks. He's cuddly and has attached seamlessly to us, but is also independent (is comfortable alone in his crate) and he sleeps quietly at my side during my work day. He also has a noticeable love for classical music and will drop everything to listen when we play the piano. He is a true dream puppy and we feel so lucky to have found him!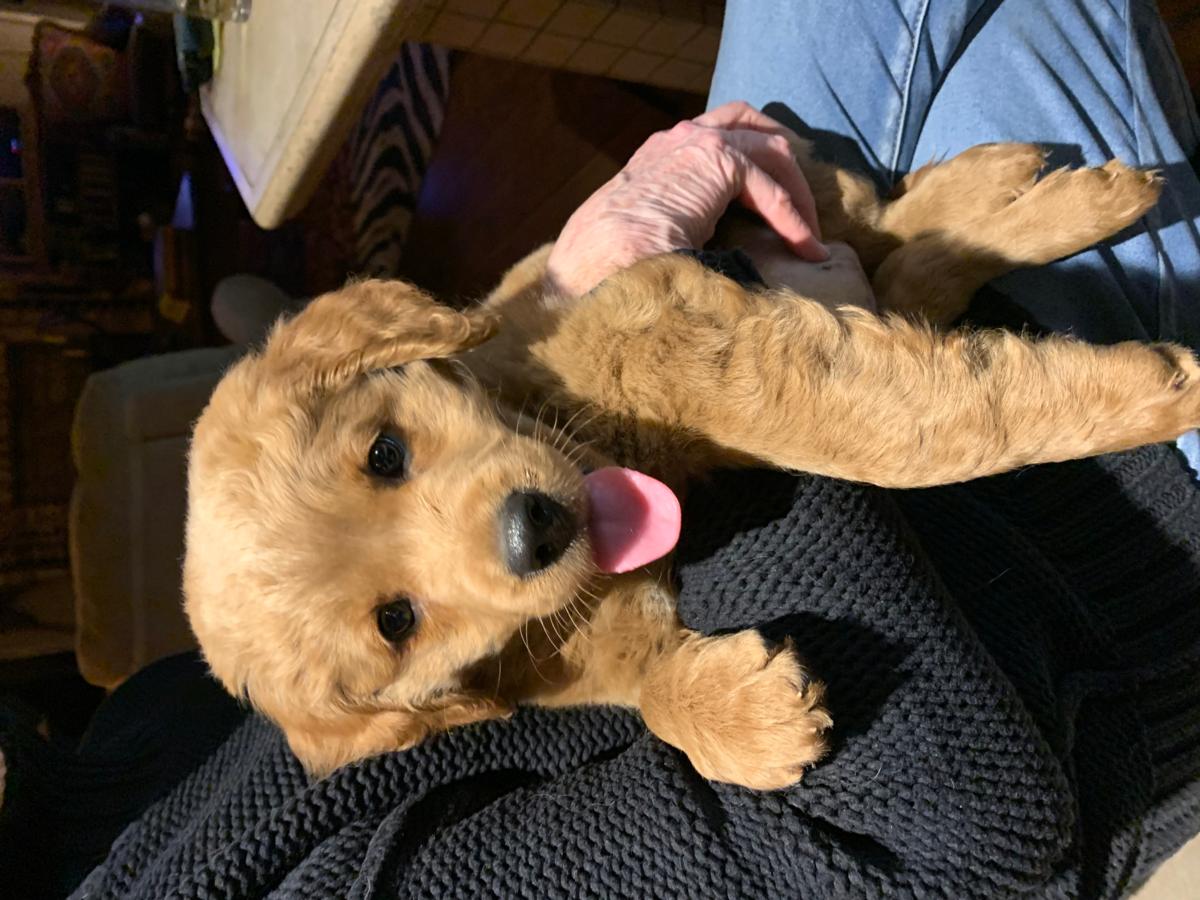 John
January 2022 - Seguin, TX
Giggles is a perfect match for our family both people and dogs. Smart, hard headed, fun and very entertaining. We adore her!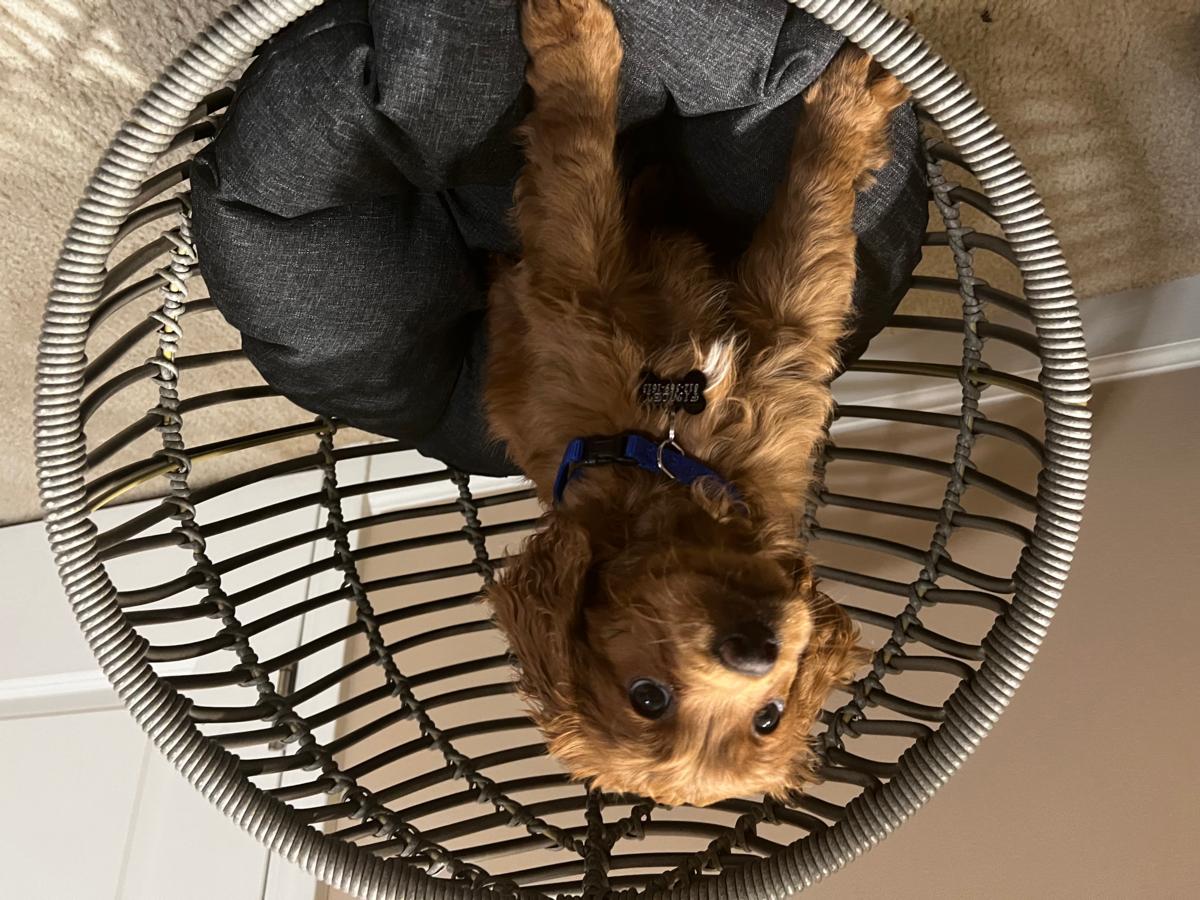 Allison Carney
Winter 2022 - Indiana
We picked our puppy up just 4 days ago and he's already the best dog I've ever seen. He's so sweet and loving. The process was so easy and the communication was and has been great! Jay was super helpful and so friendly. I definitely recommend them if you are looking for a furry best friend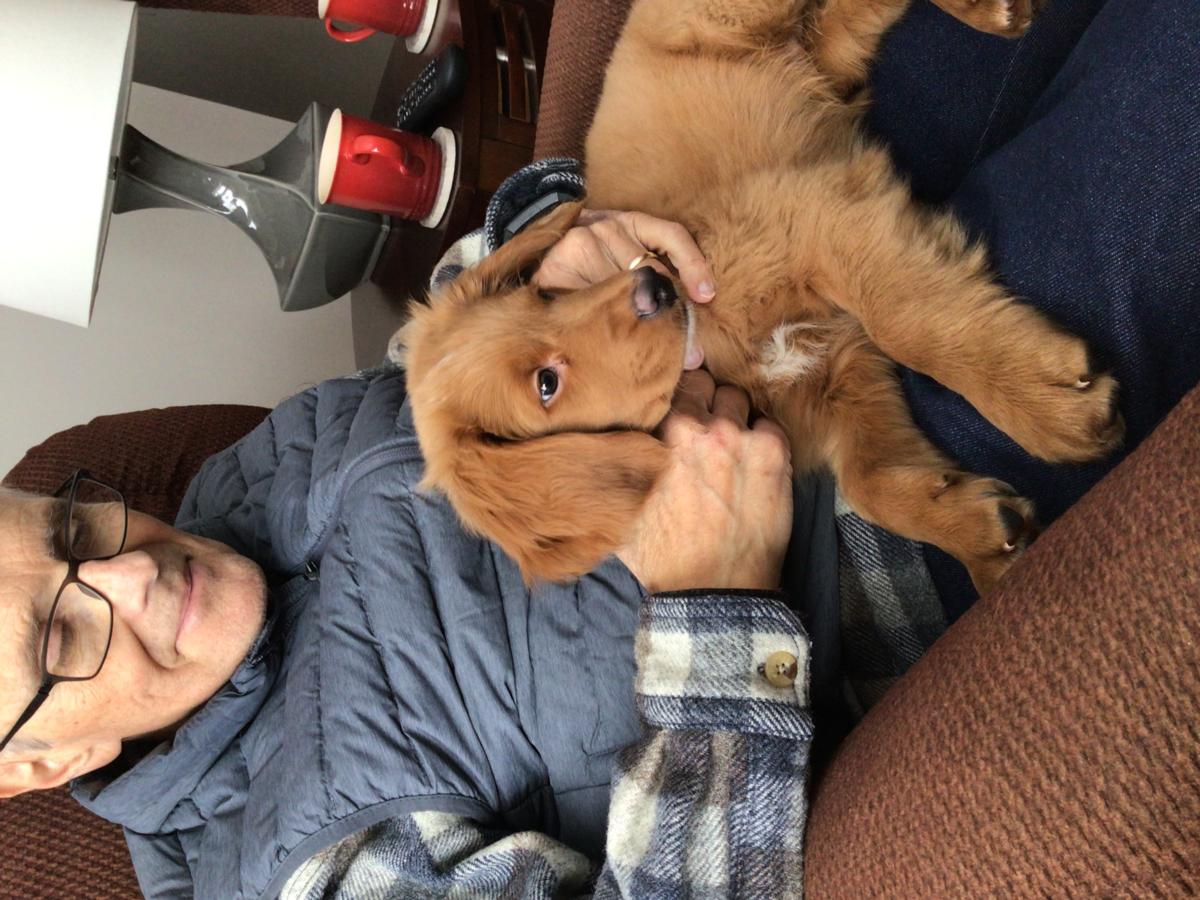 Dave and Marsha
Winter, 2022 - West central Illinois
We have had our puppy for almost three weeks. He was nine weeks old when he arrived. He is now almost twelve weeks old. From our first conversation of inquiry with James, the process was professional, informative and easy. Because of our distance, the weather and Covid, we had him delivered. He arrived exactly when promised and the transfer was seamless. It was obvious that he was well cared for and had received lots of attention as he already knew how to fetch the ball and was very alert and loving. He is catching on quickly, can already sit and stay and is learning to shake. He is very attached to us already and is eager to please. He loves to play and we can tell he is very smart and will be a wonderful dog for us. Having had two previous golden retrievers, we wanted a smaller 'golden' that would be more manageable for us as we age, but really wanted that same temperament and hopefully shed a little less. So far so good. He is a wonderful dog and we love him so much already. We highly recommend mini fairytale retrievers in Ohio.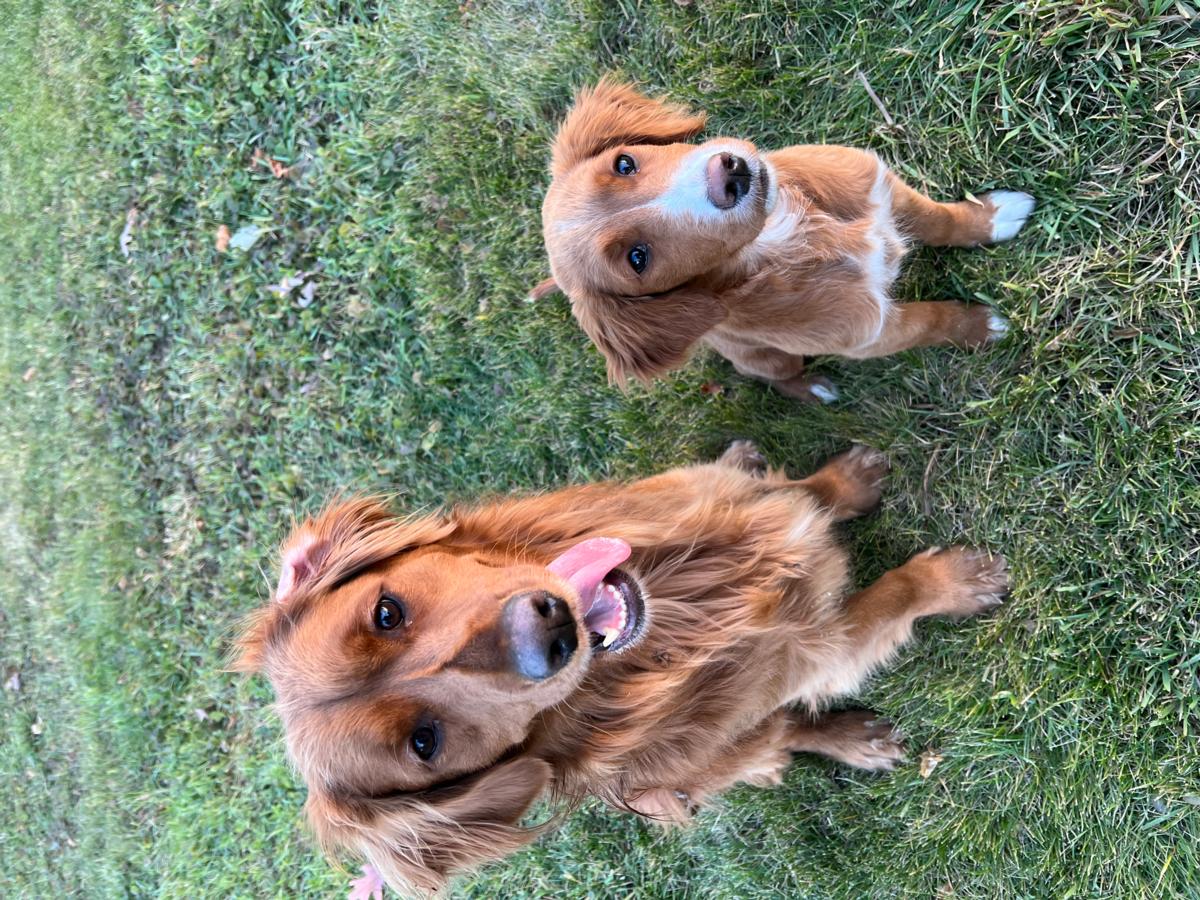 Tami and Andy
Spring 2020 and Fall 2021 - Oswego IL
We got banjo first and loved him so much we wanted to get his sister! Now we have Banjo and Beverly! They're great dogs and we love them so much. Also the process was handled very professionally. Everything was well planned and organized. Best decision ever!!
Susan Childers
Winter 2021 - Morganton
I received my puppy on Dec. 29th, which was six days ago, and my heart is completely smitten. I lost my adult Golden recently to cancer, he was my 2nd Golden. I knew I would want another Golden when my heart was ready but as I am getting older my adult children told me I should not get a Golden because they grow too large and it could be a hazard for me. If you have ever had a Golden you know why I did not want anything else. I searched the Internet looking for a smaller breed of dog that I might want but soon realized that I am just a Golden snob. Then I discovered Mini Fairytail Golden Retrievers and knew I had my found where I needed to be looking. Everything from that moment on fell into place. I live in North Carolina and the puppies were in Ohio but a delivery was provided, how perfect. All communication has been wonderful. I truly believe the health and welfare of the puppies are put first. On a personal note, my puppy is PERFECT. He is so friendly and was from the first moment. Well adjusted, loving, intelligent, playful, even sleeping through the night. He is perfect and I am thrilled that Fairytail gave me the opportunity to have a Golden in a smaller package. I am happy, my children are happy. Susan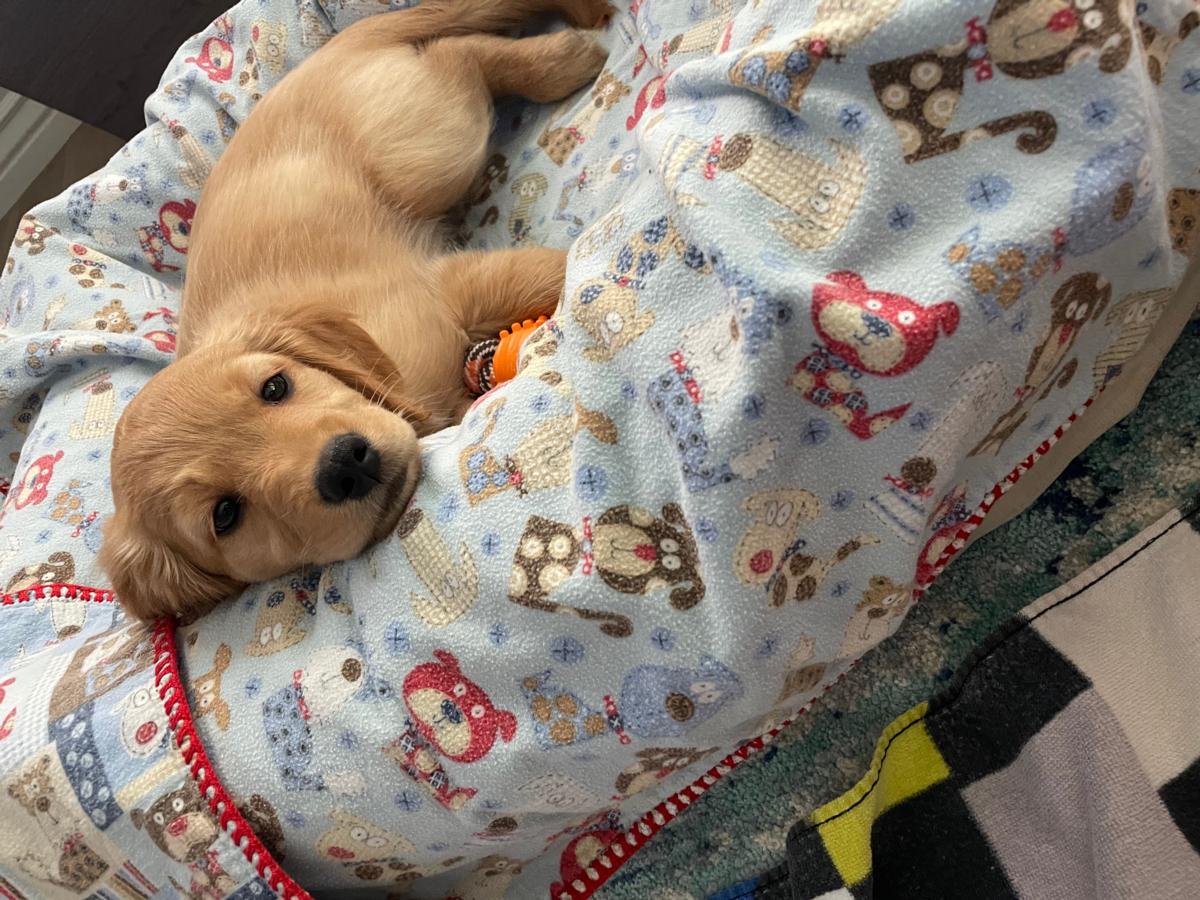 Lucy Patreiver
Winter 2021 - Peoria AZ
A fantastic experience from my first initial contact to pick up. They were so patient with my questions as a new dog owner and the puppy was so obviously well cared for and loved. I highly recommend Mini Fairytail Golden Retrievers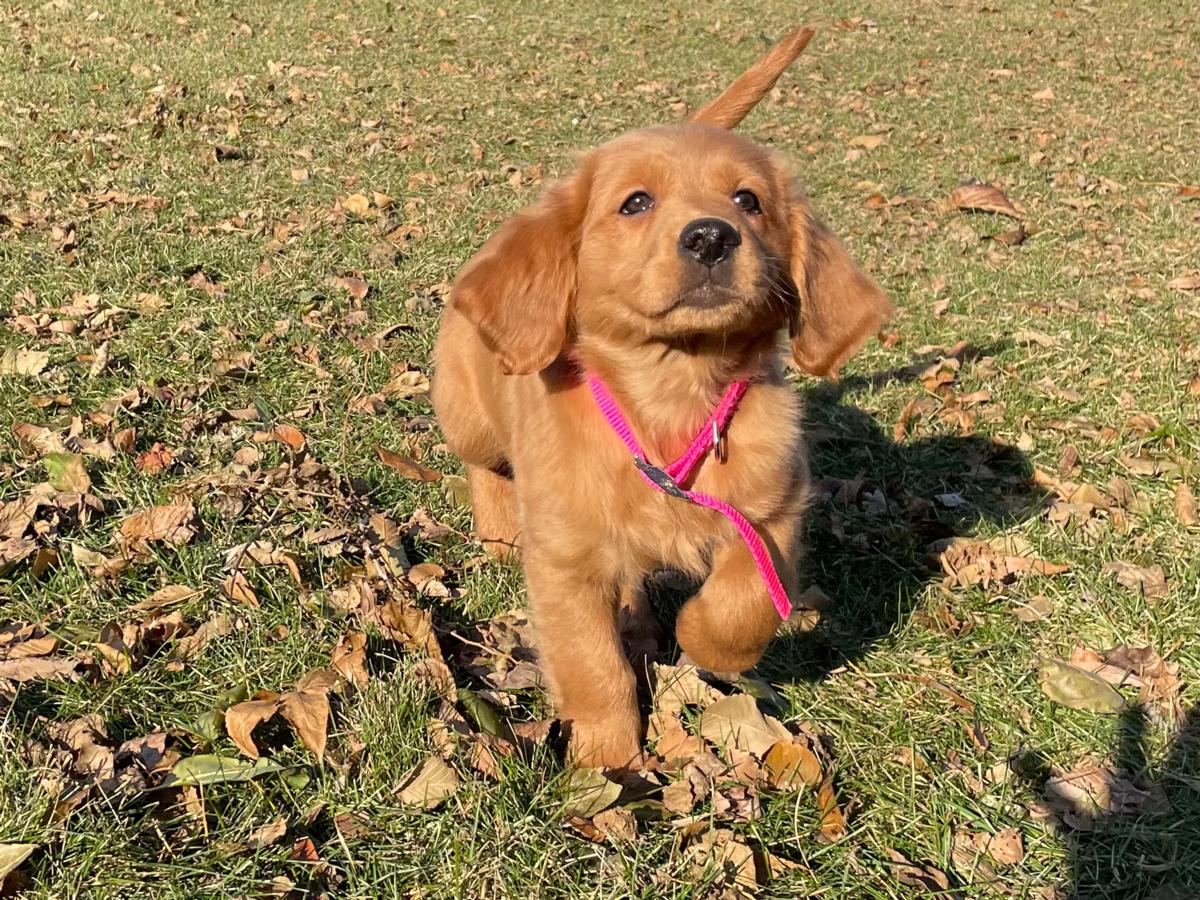 Caitlyn Joseoh
Fall 2021 - Louis villa, OH
My experience with Mini Fairytail Golden Retrievers was nothing but wonderful. The initial contact via text regarding the puppy we were interested in went great. They responded promptly and answered every question we had regarding our new family member. They were patient with me and took the time to address all my concerns. When my mom and sister picked up the pup they were so impressed with how professional and clean everything was. They were so kind to my mom and sister and made everything so easy. I would highly recommend getting your pup from Mini Fairytail Golden Retrievers. Everything was professional and pleasant From finding the ad on a google search to picking up our puppy. Thank you, our family is so I love with our new mini!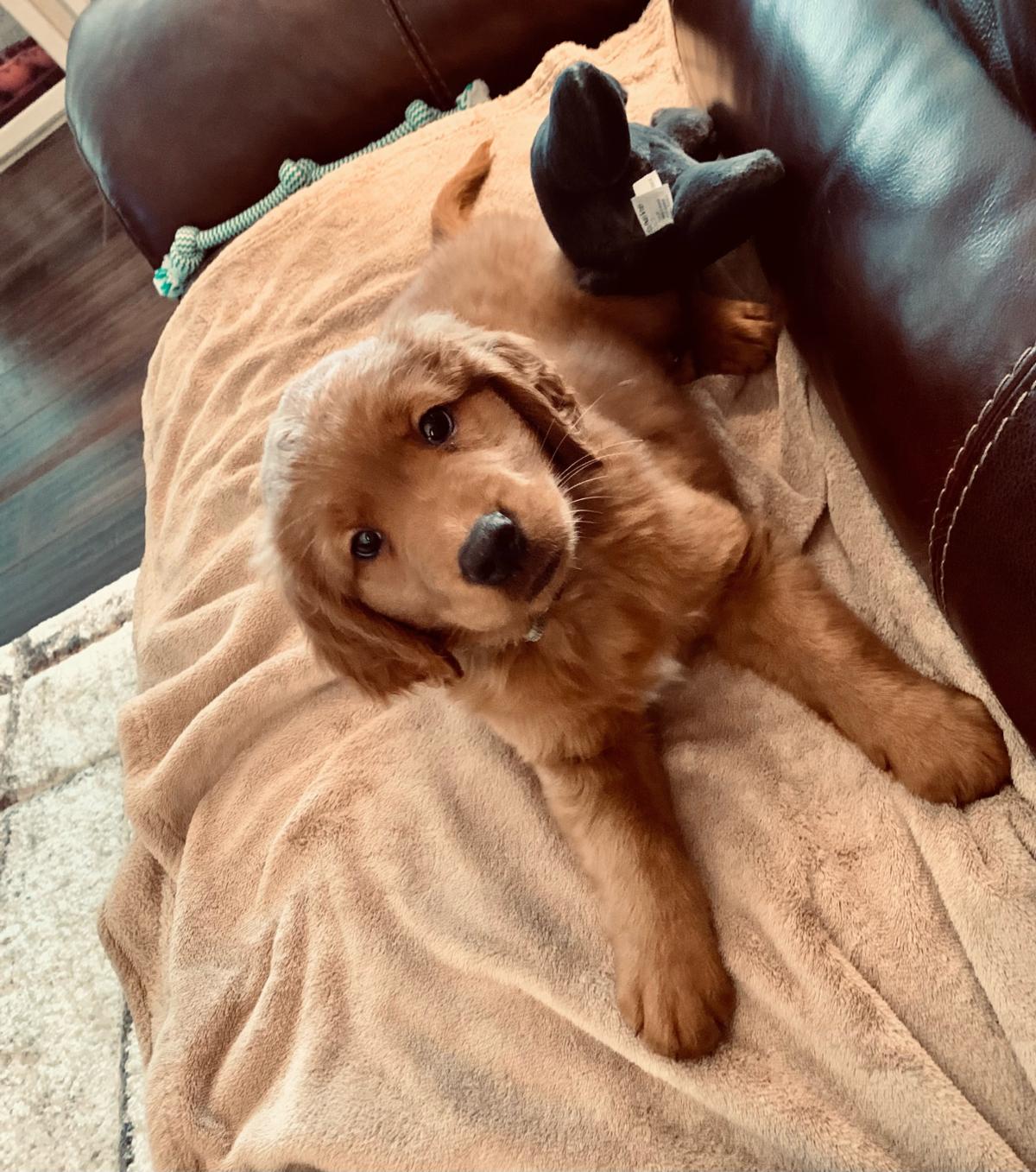 Hayley Woosley
Fall/2021 - Hebron, OH
I found my pup on BuckeyePuppes.com and the link sent me over to this website. I filled out the contact form and within minutes James got back with me over text regarding the pup I was interested in. He was very prompt and professional in answering all my questions and being very flexible in arranging a time to pickup my pup. It is also nice you can put a deposit down on your pup that also goes towards your purchase. My pup came with all his vet information, breeding information, and was already microchipped! He was just as promised and is healthy and happy! From day 1 my pup was happy and behaves very well, even before puppy training! I am so thankful for Fairytails for providing me with my life long companion!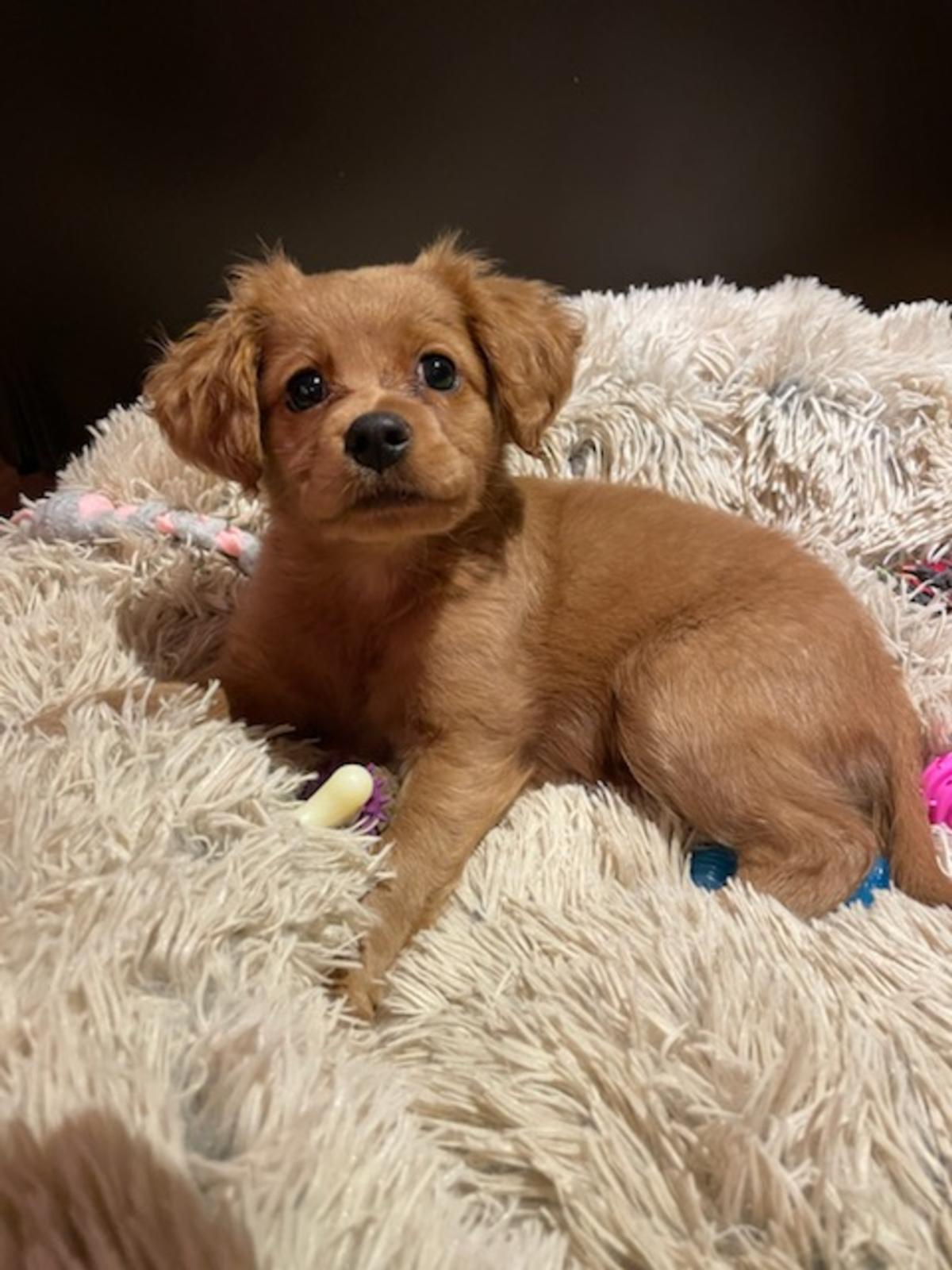 Heather Cordell
Fall 2021 - Jackson
Mini Fairytail Golden Retrievers is an excellent organization to purchase a puppy from. They are organized, friendly, helpful and very professional! We are enjoying our new puppy very much. She was vaccinated and well cared for by Mini Fairytail Golden Retrievers before we picked her up. I highly recommend them.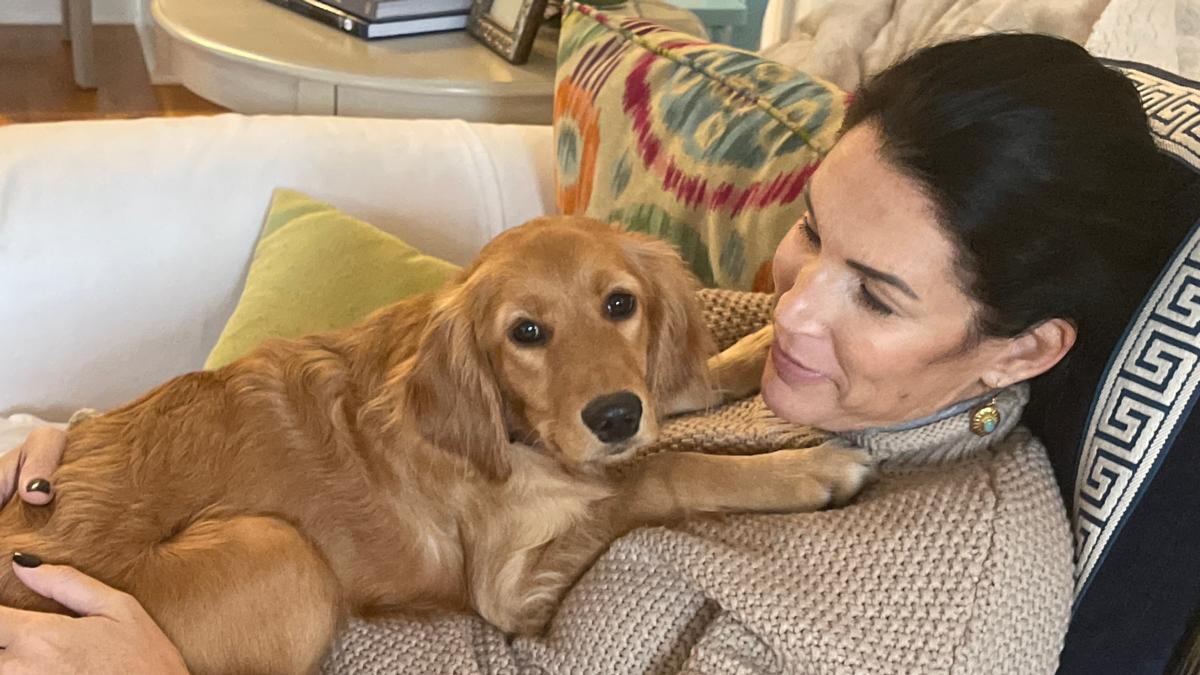 Annemarie Petroff
Summer 2021 - Wilmington, NC
I initially connected with Fairytales through the Internet and we started communicating via text message. James was very prompt and very specific in answering all of my questions and sent photos. When we spoke on the phone it was easy to tell how much he cared for the dogs. He was also very helpful in working with me to transport the dog and made the whole process so easy. Our puppy was exactly as promised and her Vet check was perfect! We are so grateful to have connected with Fairytales and love our pup so much! She's got the sweetest disposition and is just perfect!
Send us a Testimonial
To our past clients: We appreciate your comments and if you would, fill out the form with comments and a photo about your experience at Mini Fairytail Golden Retrievers. Fields marked with * are required. Please enter the Name field how you want your name to read on our website (Examples: John Doe, J. Doe, John D., John Doe Corporation).