Mini Golden Retrievers in Ohio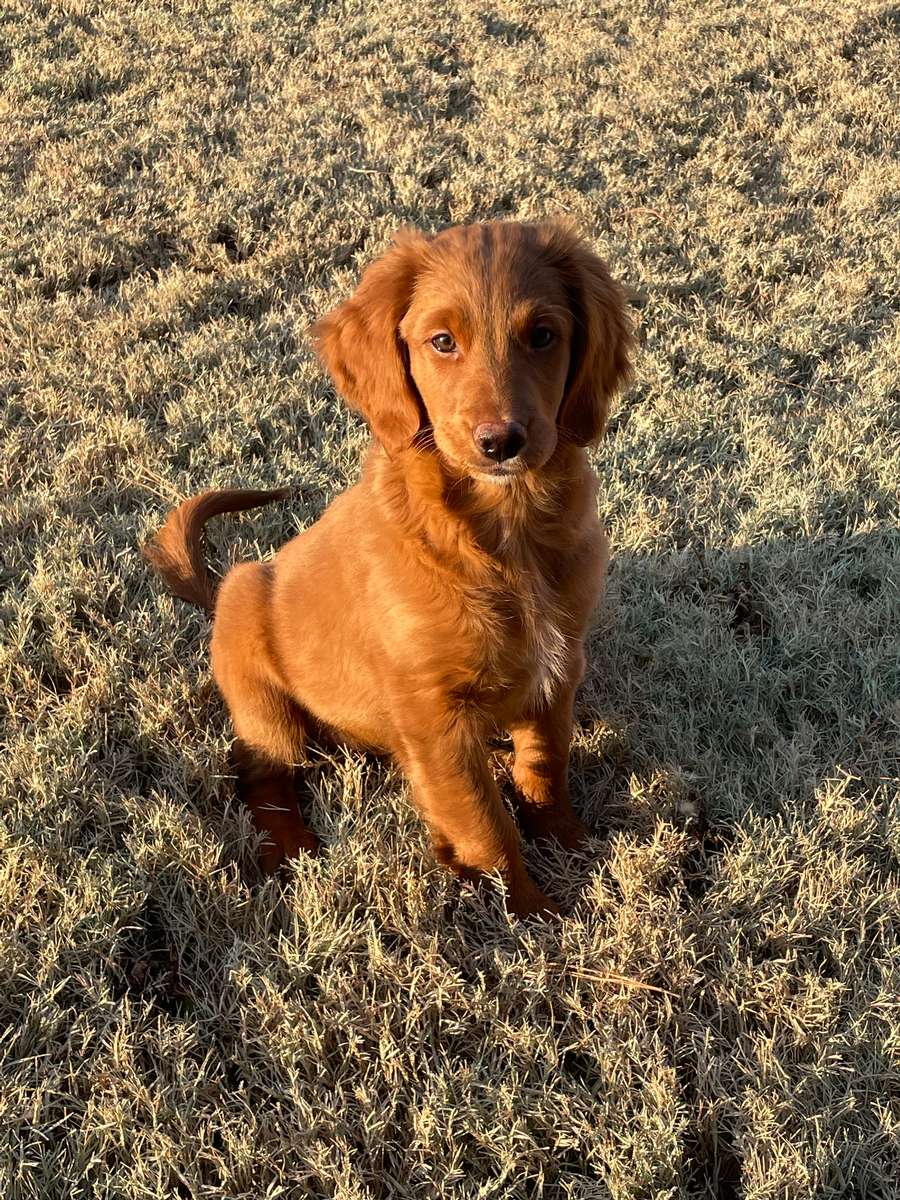 What is a Mini Golden Retriever?
Mini Golden Retrievers are a special breed that is fantastic for family homes or those looking to have the fun personality of a standard Golden Retriever but in a smaller package. The Mini Golden Retriever breed consists of Standard Golden Retriever, Standard Poodle, and King Charles Cavalier. There are some puppies that only have Standard Golden Retriever and Poodle but don't look like Golden Doodles. These puppies still have relatively straight /short-haired coats. We strive to duplicate the look of Standard Golden Retrievers while adding the benefits of this special miniature breed.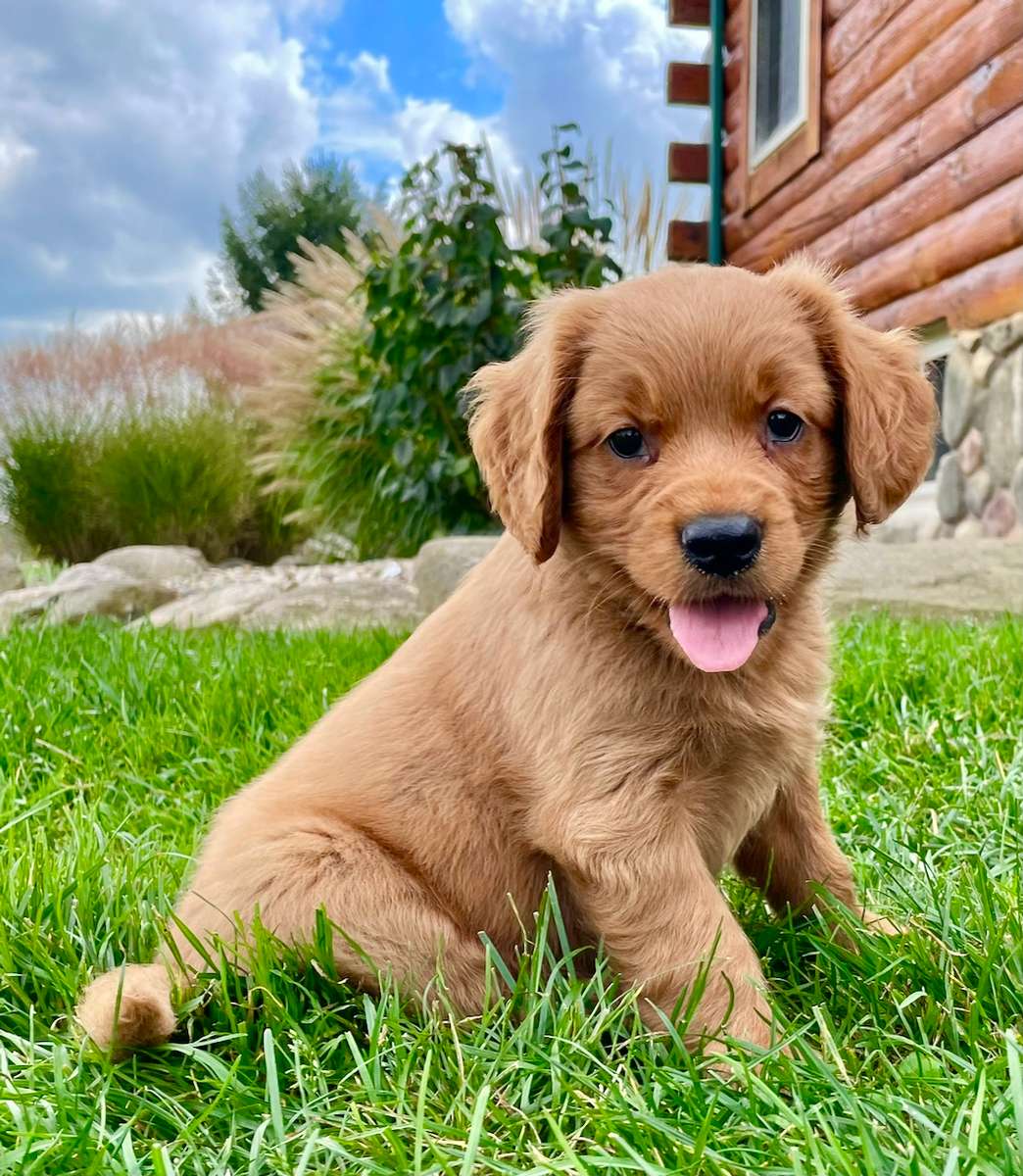 Do Mini Golden Retrievers Have Health Problems?
We can all agree that taking our beloved pets to the vet can be quite stressful and worrisome. Long-term genetic issues can arise in any dog, however, by mixing breeds you can decrease the chance of a puppy inheriting genetic issues, and Mini Golden Retrievers are typically very healthy dogs. This means you can go back to spending more time laughing at your puppy's antics instead of being worried in a clinic waiting room.
Through our breeding program, we hope to:
Reduce hip dysplasia
Reduce eye problems
Reduce organ problems
Build a stronger immune system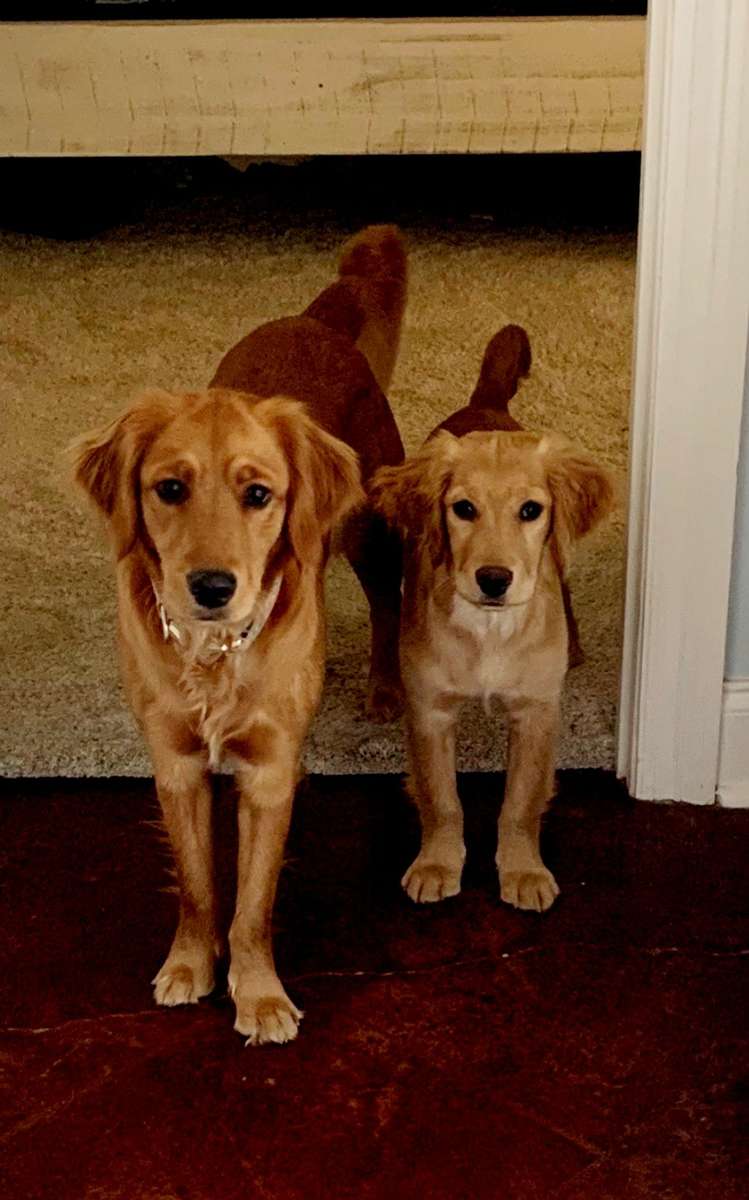 How Big Are Mini Golden Retrievers?
While most Standard Golden Retrievers grow to reach 65 to 100 pounds, the Mini Golden Retriever only grows about half that size. Our puppies generally grow to only reach 30-45 pounds. We bring a new size onboard with our breeding program, which means more options for you! While we love Standard Golden Retrievers, sometimes their size can be a little too much to handle. We feel that Mini Golden Retrievers reach the perfect size to cater to almost any lifestyle. Whether you live in an apartment or on acreage, a Mini Golden Retriever is perfect!
Mini Golden Retriever
Looks and Features of Mini Golden Retrievers
While Mini Golden Retrievers can lose some of the Standard Golden Retriever looks and features, we pride ourselves in being able to produce an almost identical copy of the typical Golden Retriever.
Coat Colors

Range from light cream to dark red

Varying Coat Lengths
Typically Have the Signature Golden Look


Leg feathers
Long-haired ears
Long-haired tails
Take a look at our photo gallery to see many examples of Mini Golden Retrievers.
Shedding
We can love our Golden Retrievers to death but shedding can seem endless and be annoying. That is where the Poodle side comes to the rescue! Even though Mini Golden Retrievers do shed, we believe you will see less shedding. We hope that you will be doing less cleaning and more relaxing - and less sneezing!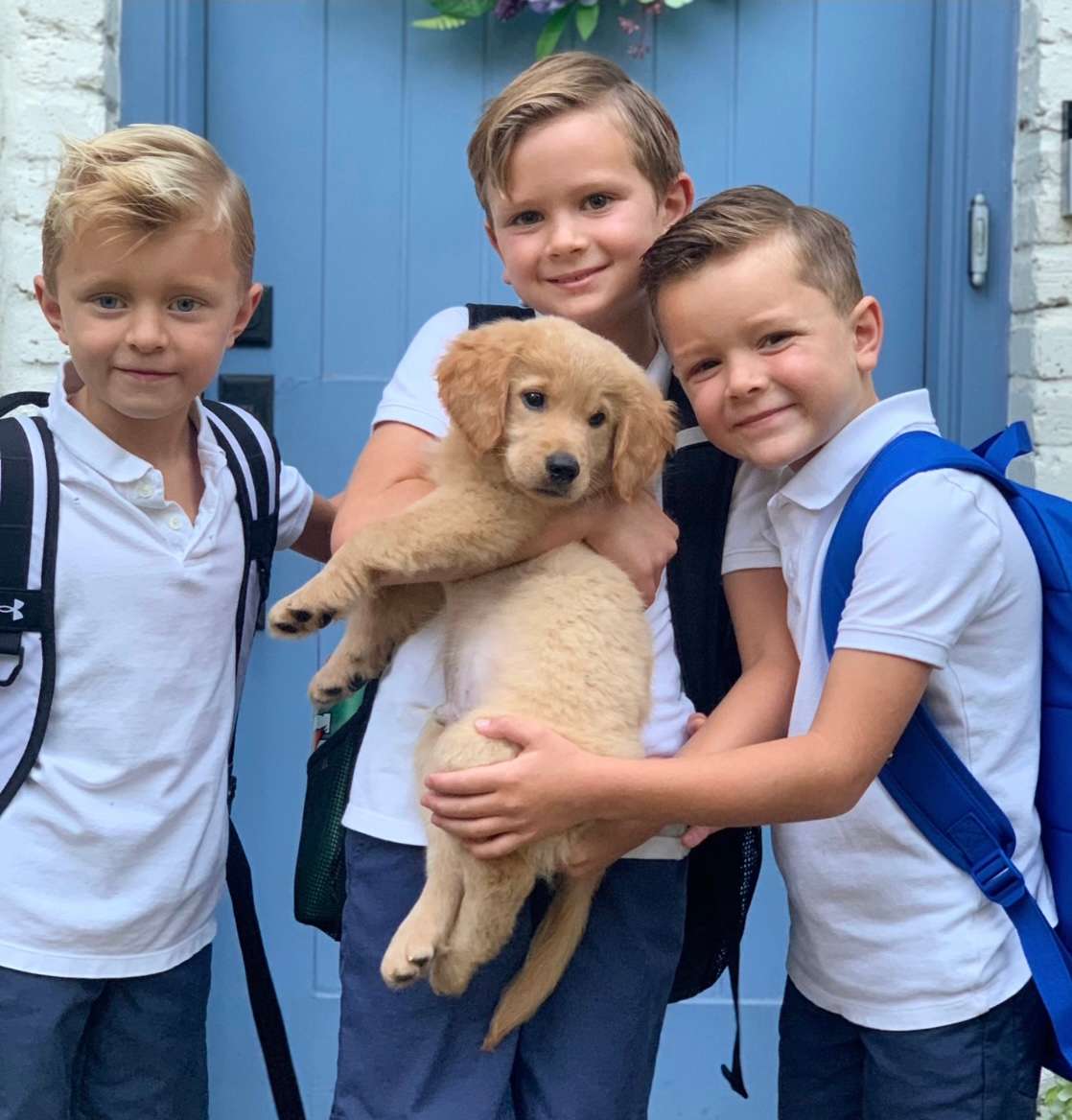 What is the Personality of Mini Golden Retrievers?
Personality is huge when it comes to deciding what kind of new puppy to bring into your home. A dog that bites, barks unnecessarily, or is unreasonably hyper is not fun to be around. This behavior could lead to added stress on you and your family. We strive to keep the Standard Golden Retriever's lovable personality so you can enjoy your life to the fullest. Our puppies are friendly, smart, and love to be included in the family. They are socialized from an early age and make amazing companions. Contact us today about our available Mini Golden Retriever puppies!
Mini Golden Retrievers Litters For Sale
Lizzie/FireBall
Breed: Mini Golden Retrievers
Availability: Available For Purchase
Litter Born: 07/17/22
Price: $1,500.00
Fire Ball (retired)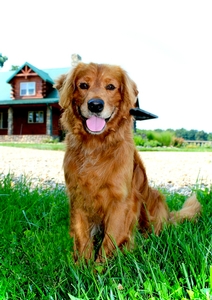 Lizzie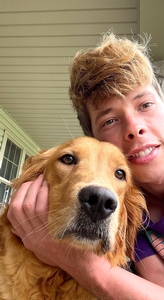 Your puppy will come with a Teddy, blanket,food,30 days puppy health insurance with Trupanion and 2 year genetic guarenttee(see puppy promise AKA contract for terms.
Ginger /WildFire
Breed: Mini Golden Retrievers
Availability: Available For Purchase
Litter Born: 07/30/22
Price: $1,500.00
Wild Fire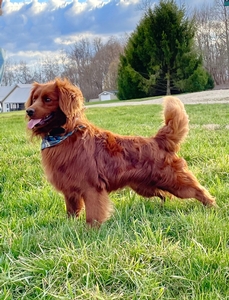 Ginger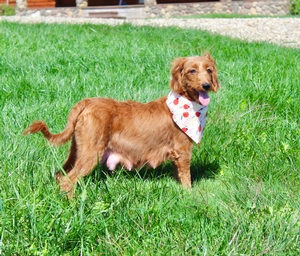 Ginger has a litter of 2 girls and 6 boys .
We expect sizes to be 20 to 35 pounds ( see individual ads for confirmation on size).
What can you expect your puppy to arrive with!
A toy, blanket,food,30 days of puppy health insurance with Trupanion,a 2 year genetic guarenttee( see puppy promise for details),and of course your puppy will come vaccinated,dewormed,microchipped,vet checked,paperwork organized and in a folder,and most of all a wonderful little baby !
WildFire is genetic tested for 220 genetic conditions
Kida/Wildfire
Breed: Mini Golden Retrievers
Availability: Available For Purchase
Litter Born: 08/02/22
Price: $2,500.00
Wild Fire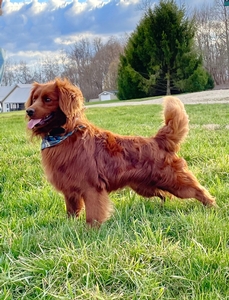 Kida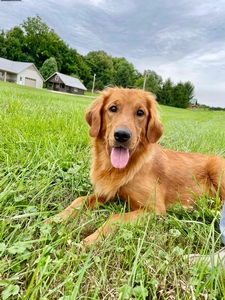 Kida and WildFire,have a wonderful litter and we are excited to see the wonders of this couple!
This is their first litter and we are happy what we can see so far .If your looking for a Princess puppy for your kids or to be best friends with than do not missout on their babies.
There is a small variety in shades of color from medium to dark red and mostly boys but they had a few girls as well.
Wildfire ,was genetic tested for 220 genetic conditions and with his results he alone will not pass any of the conditions tested to his puppies so we are looking forward to you spending many happy years with your new puppy and we are here to help your kids grow up with GREAT memories of their childhood puppy/dog.
SO LETS DIVE INTO A FEW DETAILS~
Their puppies will be available around sept.27th.to the 30th.
weight we expect an average weight of about 40 to 42 pounds give or take and a few may be smaller with a few a little bigger.
Weither your a first time pet owner or had dogs for years ( you will need to get some supplies and if you start making a list it is actually quite long and before you know it your amazon cart is so full of needed items that your like ,I cant get all this or maybe your forget something and your puppy has arrives but your needed items for your new puppy have not.
We have gotten together a list of all the needed products for your new puppy(see puppy items needed below)
1~ First of all your puppy needs a comfortable bed but a bed that you can wash so you wont have to constantly buy new ones.
2~ Next you will need a playpen or crate that your puppy can play in while your not at home or for the night so your puppy wont get into mischeif while he or she is not being watched.
3~ After that, what will your puppy eat ? (Pawtree food) which is packed with quality ingredients.
4~ So lets look at some other smaller items that you will need.
Water and food bowls
5~ Toys to play with so he or she can entertain themselves and to distract them from shoes,sandals,etc.
6~A blanket to cuddle with
7~ Training pads if you rather not wake up during the night to take your puppy out.
8~ Harness and leash
9~ Treats for training
10~ A brush for after baths .
11~ Amazing shampoo that will have your puppy smelling amazing.
12~ Pet insurance
13~ A 2 year genetic guarenttee ( see contract for terms )
There are a few other items that you may want to get based on personal preference.
Guess what!
If you are adopting a puppy from this litter ( you will automatically be recieving all the following products with your puppy ) forget the shopping part and let us provide you with all the necessary items you will need.
Of couse your puppy will come vaccinated,dewormed,vet checked, and microchipped.
Please note~ potty training will depend on when exactly you will be taking home your new baby.
Mini Golden Retrievers Past Litters